Does Kite3 platform charts shows false signals?
I am new to trading but in general, even a layman can see Kite3 charts generating false signals most of the times, the fluctuating highs and lows in candlesticks. I compared to Kite2 charts where I got the correct signals for the same set of parameters.
Is there a way to solve it as refreshing every minute or so is not more of a viable option?
Can you use kite2 charts only for time-being.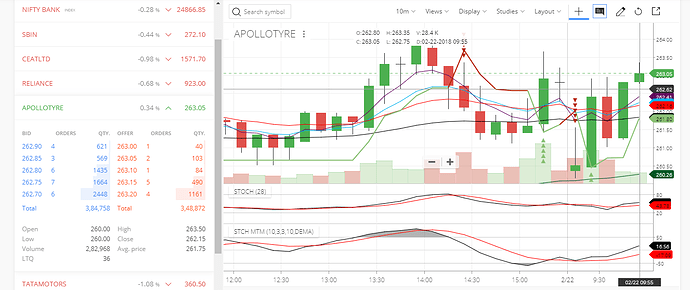 Here Is Apollo Tyre Charts (Time Frame 10 Min)
The Stock Quote Showing High Of 263.50 And The Latest Candle Which Is Of High Is Showing the High Of 263.35.
Why This Happen's In The Chart. We Want The Price Which Are Live Note The False One.
Why The Price Is Difference. It Need's Clarification. @siva @nithin
Thank's For Explanation For This @siva:blush:
put delete button on extreme right after more button lol pain near graph. ther is no undo comes ,which stock got deleted is a mystry haha
@siva Hi, Below options became multiple clicks now
to edit a order
to cancel a order
can we highlight (EDIT/CANCEL) options, on orders when we hover, jsut like in kite2.0?
Siva/Nitin
Could you provide a way to create Straddle and Strangle charts
Also a way to place an option strategy in one go
We are working on options platform, soon will release beta version.
I am unable to save multi-chart (4 charts) display settings in Kite3. Every time I have to open those 4 charts again and load the configurations.
Is this feature currently not enabled in Kite3?
Regards,
Dhruv.
Would love to see the following features on the Kite3 marketwatch area.
Ability to add separator between symbols to group and organize stocks and their related options.
Ability to assign a name to the 5 lists - This will help users classify their lists e.g. current month expiry, next month expiry, stocks, futures, etc.
Add settings, go to layout and save them as preferences, need to do individually for each container on multi time charts.
We have done necessary changes on kite3 charts, can you do hard refresh (ctrl+shift+r) and check, can report if still facing the same issue.
@siva
Can't we replace chart containers with chart widgets?
Just sayin
@siva
I know it's not possible for end users.
I am suggesting on the devs side.
Can YOU dev code such that container on webpage be converted to widget.
Just like upstox pro
@siva When are we going to see Gold Options on Kite?