A couple of users had asked if there was a list of all ETFs that trade on the exchanges. Here's the full list of symbols and the underlying benchmark index. All ETFs can be bought and sold on Kite. To buy an ETF, just search for the symbol>add to your marketwatch and place an order.
If you wish to invest systematically (SIP) in ETFs, you can now set up SIPs on Kite.
Note: Most of the ETFs are illiquid and don't trade much. Check the market depth to check the volumes and always use a limit order when buying and selling ETFs.
Also, the price you see on Kite is the last traded price which is influenced by demand and supply. Evey ETF also has a NAV which you can consider as the fair value. All AMCs disclose the NAV or iNAV (intraday NAV) on their websites. Aways check the iNAV before placing an order. Do read this post on how ETFs work: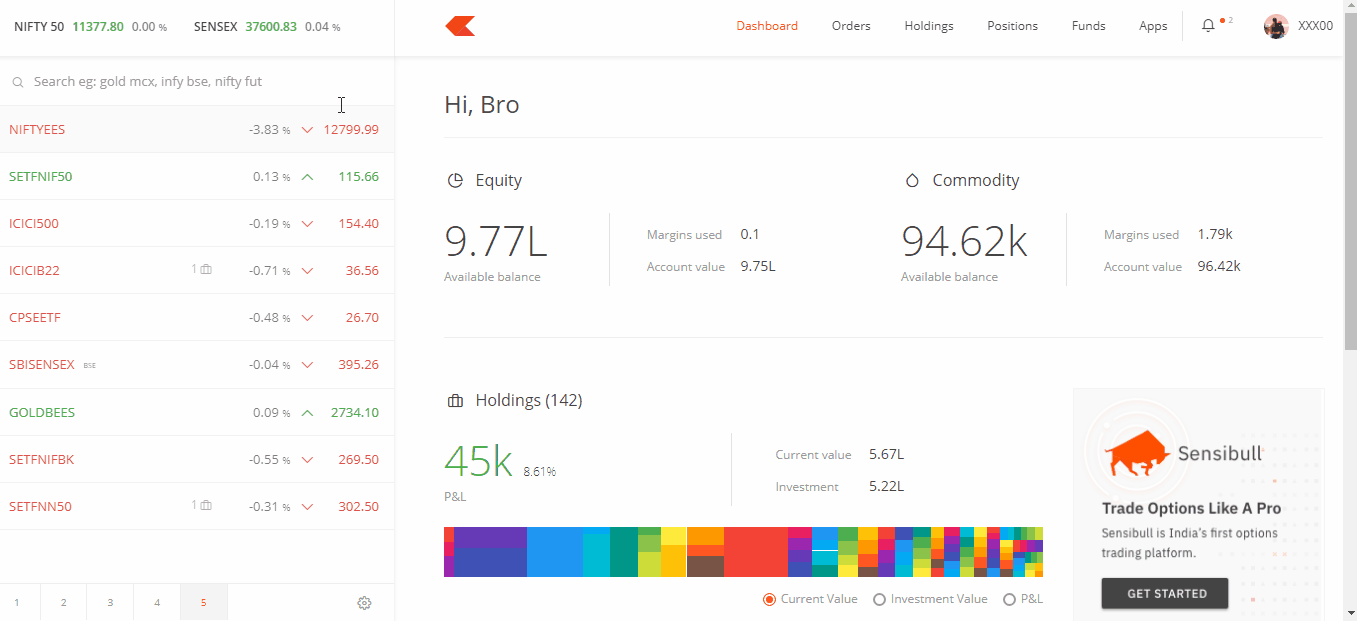 Nifty 50 ETFs
| Name | Ticker | Sub-Sector | Close Price | Tracking Error | Expense Ratio | Benchmark |
| --- | --- | --- | --- | --- | --- | --- |
| SBI Nifty 50 ETF | SETFNIF50 | Equity | 157.58 | 0.27 | 0.07 | NIFTY 50 - TRI |
| Nippon India Nifty 50 Bees ETF | NIFTYBEES | Equity | 162.06 | 0.18 | 0.05 | NIFTY 50 - TRI |
| ICICI Prudential Nifty 50 ETF | ICICINIFTY | Equity | 161.3 | 0.33 | 0.05 | NIFTY 50 - TRI |
| Kotak Nifty 50 ETF | KOTAKNIFTY | Equity | 158.24 | 0.21 | 0.12 | NIFTY 50 - TRI |
| HDFC Nifty 50 ETF | HDFCNIFETF | Equity | 1595.07 | 0.19 | 0.05 | NIFTY 50 - TRI |
| Mirae Asset Nifty 50 ETF | MAN50ETF | Equity | 154.46 | 0.33 | 0.07 | NIFTY 50 - TRI |
| Aditya BSL Nifty 50 ETF | BSLNIFTY | Equity | 166.22 | 0.36 | 0.05 | NIFTY 50 - TRI |
| Axis Nifty 50 ETF | AXISNIFTY | Equity | 156.72 | 0.34 | 0.15 | NIFTY 50 - TRI |
| Motilal Oswal Nifty 50 ETF | M50 | Equity | 147.78 | 0.34 | 0.05 | NIFTY 50 - TRI |
| Indiabulls Nifty 50 ETF | IBMFNIFTY | Equity | 152 | 0.63 | 0.12 | NIFTY 50 - TRI |
| Quantum Nifty 50 ETF | QNIFTY | Equity | 1565 | 0.24 | 0.094 | NIFTY 50 - TRI |
| Edelweiss Nifty 50 ETF | NIFTYEES | Equity | 19385 | 0.38 | 0.07 | NIFTY 50 - TRI |
| Invesco India Nifty 50 ETF | IVZINNIFTY | Equity | 1641.05 | 0.30 | 0.1 | NIFTY 50 - TRI |
| IDFC Nifty 50 ETF | IDFNIFTYET | Equity | 158.49 | 0.62 | 0.06 | NIFTY 50 - TRI |
| LIC MF Nifty 50 ETF | LICNETFN50 | Equity | 159.35 | 0.32 | 0.1 | NIFTY 50 - TRI |
| Tata Nifty 50 ETF | NETF | Equity | 185.58 | 0.28 | 0.07 | NIFTY 50 - TRI |
| UTI Nifty 50 ETF | UTINIFTETF | Equity | 1613.79 | 0.27 | 0.07 | NIFTY 50 - TRI |
Sensex 30 ETFs
| Name | Ticker | Sub-Sector | Close Price | Tracking Error | Expense Ratio | Benchmark |
| --- | --- | --- | --- | --- | --- | --- |
| LIC MF Sensex 30 ETF | LICNETFSEN | Equity | 532.95 | 0.10 | 0.1 | S&P BSE SENSEX - TRI |
| HDFC Sensex 30 ETF | HDFCSENETF | Equity | 5454.6 | 0.10 | 0.05 | S&P BSE SENSEX - TRI |
| ICICI Prudential Sensex 30 ETF | ICICISENSX | Equity | 555.02 | 0.13 | 0.08 | S&P BSE SENSEX - TRI |
| UTI Sensex 30 ETF | UTISENSETF | Equity | 549.04 | 0.31 | | S&P BSE SENSEX - TRI |
| SBI Sensex 30 ETF | SBISENSEX | Equity | 553.86 | 0.32 | 0.07 | S&P BSE SENSEX - TRI |
| IDFC Sensex 30 ETF | IDFSENSEXE | Equity | 536 | 0.71 | 0.22 | NIFTY 50 - TRI |
| Aditya BSL Sensex 30 ETF | BSLSENETFG | Equity | 473.95 | 0.63 | 0.08 | NIFTY 50 - TRI |
| Nippon India Sensex 30 ETF | RELSENSEX | Equity | 557.12 | 0.11 | 0.07 | NIFTY 50 - TRI |
Nifty & BSE 100 ETFs
| Name | Ticker | Sub-Sector | Close Price | Tracking Error | Expense Ratio | Benchmark |
| --- | --- | --- | --- | --- | --- | --- |
| ICICI Prudential Nifty 100 ETF | ICICINF100 | Equity | 164 | 0.24 | 0.46 | NIFTY 100 - TRI |
| Nippon India Nifty 100 ETF | NETFNIF100 | Equity | 155.81 | 0.19 | 0.97 | NIFTY 100 - TRI |
| LIC MF Nifty 100 ETF | LICNFNHGP | Equity | 153.97 | 0.23 | 0.26 | NIFTY 100 - TRI |
| SBI BSE 100 ETF | SETFBSE100 | Equity | 158 | 0.32 | 0.14 | S&P BSE 100 - TRI |
Nifty Next 50 ETFs
| Name | Ticker | Sub-Sector | Close Price | Tracking Error | Expense Ratio | Benchmark |
| --- | --- | --- | --- | --- | --- | --- |
| Nippon India Junior Bees ETF | JUNIORBEES | Equity | 360.39 | 0.21 | 0.15 | NIFTY NEXT 50 - TRI |
| UTI Nifty Next 50 ETF | UTINEXT50 | Equity | 356.99 | 0.22 | | NIFTY NEXT 50 - TRI |
| ICICI Prudential Nifty Next 50 ETF | ICICINXT50 | Equity | 35.03 | 0.52 | 0.15 | NIFTY NEXT 50 - TRI |
| SBI Nifty Next 50 ETF | SETFNN50 | Equity | 357.78 | 0.24 | 0.2 | NIFTY NEXT 50 - TRI |
| Aditya Birla Sun Life Nifty Next 50 ETF | ABSLNN50ET | Equity | 330.95 | 1.00 | | NIFTY NEXT 50 - TRI |
| Mirae Asset Nifty Next 50 ETF | MANXT50 | Equity | 343.03 | 0.77 | 0.14 | NIFTY NEXT 50 - TRI |
| SBI Sensex Next 50 ETF | SETFSN50 | Equity | 409 | 1.15 | | NIFTY NEXT 50 - TRI |
Sensex Next 50 ETFs
| Name | Ticker | Sub-Sector | Close Price | Tracking Error | Expense Ratio | Benchmark |
| --- | --- | --- | --- | --- | --- | --- |
| UTI Sensex Next 50 ETF | UTISXN50 | Equity | 397.41 | 1.15 | | BSE Sensex Next 50 TRI Index |
| Nippon India Sensex Next 50 ETF | RETFSNXN50 | Equity | 47.06 | 1.10 | 0.25 | NIFTY 50 - TRI |
BSE 500 ETFs
| Name | Ticker | Sub-Sector | Close Price | Tracking Error | Expense Ratio | Benchmark |
| --- | --- | --- | --- | --- | --- | --- |
| ICICI Prudential BSE 500 ETF | ICICI500 | Equity | 205.09 | 0.37 | 0.28 | S&P BSE 500 |
Midcap ETFs
| Name | Ticker | Sub-Sector | Close Price | Tracking Error | Expense Ratio | Benchmark |
| --- | --- | --- | --- | --- | --- | --- |
| Nippon India Nifty Midcap 150 ETF | NETFMID150 | Equity | 87.28 | 0.33 | 0.23 | Nifty Midcap 150 |
| Motilal Oswal Nifty Midcap 100 ETF | M100 | Equity | 23.81 | 0.62 | 0.2 | Nifty Midcap 100 - TRI |
| ICICI Prudential Sensex Midcap Select ETF | ICICIMCAP | Equity | 87.24 | 0.42 | 0.45 | S&P BSE MidCap Select Index |
| ICICI Prudential Nifty Midcap 150 ETF | ICICIM150 | Equity | 86.83 | 0.57 | 0.27 | Nifty Midcap 150 - TRI |
Banking ETFs
| Nippon India Nifty Bank Bees ETF | BANKBEES | Equity | 359.66 | 0.85 | 0.18 | NIFTY BANK - TRI |
| --- | --- | --- | --- | --- | --- | --- |
| Kotak Nifty Bank ETF | KOTAKBKETF | Equity | 360.26 | 0.84 | 0.18 | NIFTY BANK - TRI |
| SBI Nifty Bank ETF | SETFNIFBK | Equity | 356.72 | 0.83 | 0.2 | NIFTY BANK |
| Aditya Birla Sun Life Nifty Bank ETF | ABSLBANETF | Equity | 355.63 | 1.42 | | NIFTY BANK - TRI |
| Kotak Sensex 30 ETF | KTKSENSEX | Equity | 535.76 | 0.07 | 0.28 | NIFTY PSU BANK - TRI |
| Nippon India Nifty PSU Bank Bees ETF | PSUBNKBEES | Equity | 24.36 | 0.14 | 0.49 | NIFTY PSU BANK - TRI |
| Kotak Nifty PSU Bank ETF | KOTAKPSUBK | Equity | 220.16 | 0.28 | 0.49 | NIFTY PSU BANK - TRI |
| UTI Bank ETF | UTIBANKETF | Equity | 357.86 | 0.01 | | NIFTY BANK |
| Edelweiss Nifty Bank ETF | EBANK | Equity | 3700.12 | 0.85 | 0.12 | NIFTY BANK - TRI |
| HDFC Banking ETF | HBANKETF | Equity | 357.04 | 0.15 | 0.16 | NIFTY BANK - TRI |
| ICICI Prudential Nifty Private Bank ETF | ICICIBANKP | Equity | 187.1 | 1.54 | 0.16 | Nifty Private Bank - TRI |
| ICICI Prudential Nifty Bank ETF | ICICIBANKN | Equity | 355.49 | 1.03 | 0.16 | NIFTY BANK - TRI |
| Tata Nifty Private Bank ETF | NPBET | Equity | 180.25 | 1.92 | 0.13 | Nifty Private Bank - TRI |
| Axis Banking ETF | AXISBNKETF | Equity | 357.11 | 0.16 | NIFTY | NIFTY BANK - TRI |
| SBI ETF Private Bank | SBIETFPB | Equity | 190.39 | 0.13 | Nifty Private Bank - TRI | |
IT index ETFs
| Name | Ticker | Sub-Sector | Close Price | Tracking Error | Expense Ratio | Benchmark |
| --- | --- | --- | --- | --- | --- | --- |
| Nippon India ETF Nifty IT | NETFIT | Equity | 26.3 | 0.13 | 0.22 | NIFTY IT - TRI |
| ICICI Prudential IT ETF | ICICITECH | Equity | 261.52 | 0.19 | 0.22 | NIFTY IT - TRI |
| SBI ETF IT | SBIETFIT | Equity | 260.79 | 0.15 | | NIFTY IT - TRI |
Infrastructure index ETFs
| Name | Ticker | Sub-Sector | Close Price | Tracking Error | Expense Ratio | Benchmark |
| --- | --- | --- | --- | --- | --- | --- |
| Nippon India Nifty Infra Bees ETF | INFRABEES | Equity | 426.92 | 0.20 | 1.09 | NIFTY INFRA - TRI |
Consumption index ETFs
| Name | Ticker | Sub-Sector | Close Price | Tracking Error | Expense Ratio | Benchmark |
| --- | --- | --- | --- | --- | --- | --- |
| Nippon India Nifty India Consumption ETF | NETFCONSUM | Equity | 67.28 | 0.11 | 0.35 | NIFTY CONSUMPTION - TRI |
Shariah ETFs
| Name | Ticker | Sub-Sector | Close Price | Tracking Error | Expense Ratio | Benchmark |
| --- | --- | --- | --- | --- | --- | --- |
| Nippon India Nifty Shariah Bees ETF | SHARIABEES | Equity | 361.61 | 0.41 | 1.03 | NIFTY 50 Shariah - TRI |
ETFs created for Govt disinvestment
| Name | Ticker | Sub-Sector | Close Price | Tracking Error | Expense Ratio | Benchmark |
| --- | --- | --- | --- | --- | --- | --- |
| CPSE ETF | CPSEETF | Equity | 21.59 | 0.98 | 0.0095 | NIFTY CPSE Index - TRI |
| Name | Ticker | Sub-Sector | Close Price | Tracking Error | Expense Ratio | Benchmark |
| --- | --- | --- | --- | --- | --- | --- |
| Bharat 22 ETF | ICICIB22 | Equity | 36.45 | 1.52 | 0.01 | S&P BSE Bharat 22 Index |
ESG ETFs
| Name | Ticker | Sub-Sector | Close Price | Tracking Error | Expense Ratio | Benchmark |
| --- | --- | --- | --- | --- | --- | --- |
| Mirae Asset ESG Sector Leaders ETF | MAESGETF | Equity | 25.69 | | 0.33 | NIFTY 50 - TRI |
Smart beta/Factor ETFs
Value factor ETFs
| Name | Ticker | Sub-Sector | Close Price | Tracking Error | Expense Ratio | Benchmark |
| --- | --- | --- | --- | --- | --- | --- |
| Nippon India NV20 ETF | NETFNV20 | Equity | 79.85 | 0.80 | 0.36 | Nifty 50 Value 20 Index - TRI |
| ICICI Prudential NV20 ETF | ICICINV20 | Equity | 77.18 | 1.50 | 0.15 | Nifty 50 Value 20 Index - TRI |
| Kotak NV20 ETF | KOTAKNV20 | Equity | 78.7 | 2.27 | 0.14 | Nifty 50 Value 20 Index |
Quality Factor ETFs
| Name | Ticker | Sub-Sector | Close Price | Tracking Error | Expense Ratio | Benchmark |
| --- | --- | --- | --- | --- | --- | --- |
| SBI Nifty 200 Quality 30 ETF | SBIETFQLTY | Equity | 129.75 | 0.33 | | Nifty 200 Quality 30 Index |
| Edelweiss Nifty 100 Quality 30 ETF | EQ30 | Equity | 418.22 | 0.22 | 0.28 | Nifty 100 Quality 30 Index - TRI |
Low-Volatility factor ETFs
| Name | Ticker | Sub-Sector | Close Price | Tracking Error | Expense Ratio | Benchmark |
| --- | --- | --- | --- | --- | --- | --- |
| ICICI Prudential Nifty 100 Low Vol 30 ETF | ICICILOVOL | Equity | 120.02 | 0.24 | 0.42 | NIFTY 100 Low Volatility 30 Index - TRI |
Multi-factor ETFs
Alpha and loq-volatility ETFs
| Name | Ticker | Sub-Sector | Close Price | Tracking Error | Expense Ratio | Benchmark |
| --- | --- | --- | --- | --- | --- | --- |
| ICICI Prudential Alpha Low Vol 30 ETF | ICICIALPLV | Equity | 143.14 | 0.18 | 0.4 | NIFTY Alpha Low-Volatility 30 - TRI |
Dividend yield ETFs
| Name | Ticker | Sub-Sector | Close Price | Tracking Error | Expense Ratio | Benchmark |
| --- | --- | --- | --- | --- | --- | --- |
| Nippon India Nifty Dividend Opportunities ETF | NETFDIVOPP | Equity | 36.92 | 0.64 | 0.16 | NIFTY DIV OPPS 50 - TRI |
International ETFs
| Name | Ticker | Sub-Sector | Close Price | Tracking Error | Expense Ratio | Benchmark |
| --- | --- | --- | --- | --- | --- | --- |
| Motilal Oswal NASDAQ 100 ETF | N100 | Equity | 985.67 | | 0.54 | Nasdaq-100 |
| Nippon India Hang Seng Bees ETF | HNGSNGBEES | Equity | 352.76 | 5.51 | 0.86 | Hang Seng |
Debt ETFs
Liquid ETFs
| Name | Ticker | Sub-Sector | Close Price | Tracking Error | Expense Ratio | Benchmark |
| --- | --- | --- | --- | --- | --- | --- |
| ICICI Prudential Liquid ETF | ICICILIQ | Debt | 999.99 | | 0.65 | S&P BSE Liquid Rate Index |
| Nippon India Liquid Bees ETF | LIQUIDBEES | Debt | 1000 | 0.02 | 0.65 | Nifty 1D Rate Index |
| DSP BlackRock Liquid ETF | LIQUIDETF | Debt | 1000 | 0.15 | 0.6 | Nifty 1D Rate Index |
PSU Debt ETFs
| Name | Ticker | Sub-Sector | Close Price | Tracking Error | Expense Ratio | Benchmark |
| --- | --- | --- | --- | --- | --- | --- |
| Edelweiss Bharat Bond ETF-April 2023 ETF | EBBETF0423 | Debt | 1101.87 | | 0.005 | NIFTY BHARAT Bond Index - April 2023 |
| Edelweiss Bharat Bond ETF-April 2030 ETF | EBBETF0430 | Debt | 1116.62 | | 0.005 | NIFTY BHARAT Bond Index - April 2030 |
| Edelweiss Bharat Bond ETF-April 2031 ETF | EBBETF0431 | Debt | 1007.4 | | | NIFTY BHARAT Bond Index - April 2031 |
| Edelweiss Bharat Bond ETF-April 2025 ETF | EBBETF0425 | Debt | 1016.6 | | | NIFTY BHARAT Bond Index - April 2025 |
PSU Debt + State Development Loan ETFs
| Name | Ticker | Sub-Sector | Close Price | Tracking Error | Expense Ratio | Benchmark |
| --- | --- | --- | --- | --- | --- | --- |
| Nippon India ETF Nifty CPSE Bd Plus SDL-2024 Mat | NCPSESDL24 | Debt | 102.44 | | 0.15 | Nifty CPSE Bond Plus SDL Sep 2024 50:50 Index |
Government bond ETFs (Gilt ETFs)
| Name | Ticker | Sub-Sector | Close Price | Tracking Error | Expense Ratio | Benchmark |
| --- | --- | --- | --- | --- | --- | --- |
| LIC MF G-SEC Long Term ETF | LICNETFGSC | Debt | 21.78 | 2.87 | 0.27 | Nifty 8-13 yr G-Sec index |
| SBI 10 year Gilt ETF | SETF10GILT | Debt | 200 | 2.99 | 0.14 | Nifty 10 yr Benchmark G-Sec Index |
| Nippon India G-SEC Long Term ETF | NETFLTGILT | Debt | 22.28 | 2.87 | 0.1 | Nifty 8-13 yr G-Sec index |
| Motilal Oswal 5 Year G-Sec ETF | G5 | Debt | 47.36 | | 0.2 | Nifty 5 Yr. Benchmark G-Sec Index |
Gold ETFs
| Name | Ticker | Sub-Sector | Close Price | Tracking Error | Expense Ratio | Benchmark |
| --- | --- | --- | --- | --- | --- | --- |
| Nippon India Gold Bees ETF | GOLDBEES | Gold | 41.76 | | 0.82 | Gold-India |
| ICICI Prudential Gold ETF | ICICIGOLD | Gold | 42.8 | | 0.65 | Gold-India |
| SBI Gold ETF | SETFGOLD | Gold | 4278.75 | | 1.07 | Gold-India |
| HDFC Gold ETF | HDFCMFGETF | Gold | 4284.1 | | 0.6 | Gold-India |
| Kotak Gold ETF | KOTAKGOLD | Gold | 420.35 | | 0.55 | Gold-India |
| UTI Gold ETF | GOLDSHARE | Gold | 4305.25 | | 1.06 | Gold-India |
| Axis Gold ETF | AXISGOLD | Gold | 41.74 | | 0.53 | Gold-India |
| Aditya BSL Gold ETF | BSLGOLDETF | Gold | 4374.05 | | 0.92 | Gold-India |
| Quantum Gold ETF | QGOLDHALF | Gold | 2076 | | 0.78 | Gold-India |
| IDBI Gold ETF | IDBIGOLD | Gold | 4400.25 | | 0.35 | Gold-India |
| Invesco India Gold ETF | IVZINGOLD | Gold | 4339 | | 0.45 | Gold-India |