If you're new to the markets and thinking of investing in mutual funds, there's one important thing you should know. All mutual funds come in two plans: Regular and Direct. When you invest in a regular plan, you pay up to 1% as commission every year for as long as you're investing.
But when you invest in a direct plan of a mutual fund, there are zero commissions. On Coin, we offer zero commission direct mutual funds.
Here's an example. The regular expense ratio of Axis Bluechip Fund is 1.76%, while that of the direct plan is 0.49%. The difference of 1.27% is paid as a commission to distributors for selling the fund.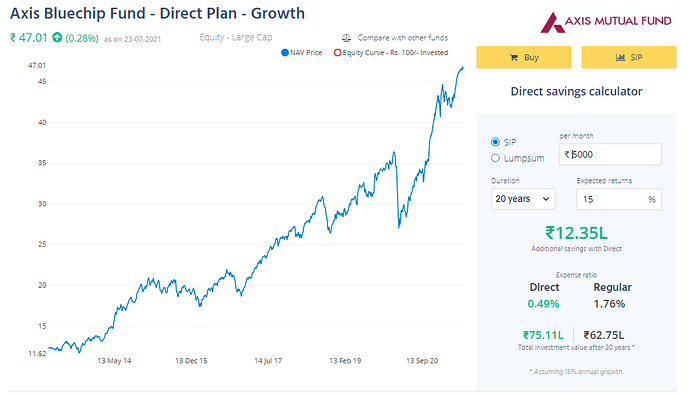 The thing about commissions is that they compound over time. The more your corpus grows, the more you pay in commissions. Look at the illustration above. On a monthly SIP of Rs 5000, you would've paid Rs 12.3 lakhs as commission over 20 years. This is a simple illustration since you'll obviously invest more as your income grows.
So, if you're a Do it yourself (DIY) investor, it makes no sense to invest in regular plans of mutual funds. If you're new to the markets, you might have heard the pitch that regular plans of mutual funds are free. That's not true; you were just mis-sold.
Why is this important?
Always remember, costs are one of the biggest drag on performance in the long run. Keeping your costs low is one thing in your control, and even tiny differences add up over the long run.
Commissions earned by distributors in FY 2020 - 2021
In 2020-21 mutual fund distributors earned Rs 6617 crores as commissions. Here are the top 20 distributors by commissions earned:
| Name of the ARN Holder | Gross Amount paid (Cr) |
| --- | --- |
| NJ IndiaInvest Pvt Ltd | 873.86 |
| State Bank of India | 488.62 |
| Axis Bank Limited | 393.03 |
| HDFC Bank Limited | 344.01 |
| ICICI Securities Limited | 264.43 |
| Prudent Corporate Advisory Services Ltd | 263.19 |
| ICICI Bank Limited | 227.22 |
| Kotak Mahindra Bank Limited | 172.97 |
| Citibank | 107.34 |
| ANAND RATHI WEALTH LIMITED | 98.82 |
| Darshan Services Private Limited | 91.66 |
| IIFL WEALTH FINANCE LIMITED | 88.78 |
| Hongkong & Shanghai Banking Corporation Ltd. | 84.50 |
| Standard Chartered Bank | 76.66 |
| Julius Baer Wealth Advisors (India) Private Limited | 70.90 |
| Bajaj Capital Ltd. | 65.48 |
| Karvy Stock Broking Limited | 59.59 |
| JM Financial Services Limited | 59.09 |
| Geojit Financial Services Ltd | 48.05 |
| HDFC Securities Ltd | 44.36 |
| | |
| Total | 3922.56 |
| | |
Banks are the biggest distributors
The total commission numbers on their own don't tell you much. But the interesting thing here is that banks are the biggest distributors. The top 20 distributors earned 3922.56 crores as commissions and just the top 20 account 59% of all commissions out of 1087 distributors. Just 7 banks accounted for 48% of all commissions earned by the top 20 distributors. Banks are among the largest distributors.
It's been the same historically
| Year | Banks in top 20 distributors (Cr) | Total commissions paid (Cr) | Number of distributors |
| --- | --- | --- | --- |
| 2017-18 | 3103.7 | 8,533.73 | 979 |
| 2018-19 | 2691 | 7,938.22 | 1037 |
| 2019-20 | 1720 | 6,148.12 | 903 |
| 2020-21 | 1844 | 6,617.49 | 1087 |
I am saying this because banks are notorious for mis-selling mutual funds and insurance policies. They are driven solely by commissions, and they don't really care about whether funds that are sold are suitable for investors. In the past 5 years, banks have been involved in all the major mis-selling incidents.
Around 2014-17 banks aggressively sold dividend plans of hybrid mutual funds as guaranteed dividend plans. This changed when the taxation for dividends changed. Then credit risk funds which are highly risky debt funds, were sold based on returns. Several funds saw double digits fall after a series of defaults and credit events during the IL&FS crisis.
So, if you're a new investor, odds are your bank relationship manager might have tried to sell you some mutual funds. Never ever buy mutual funds from a bank. They'll just sell you some high commissions funds that aren't suitable for you.
Not just mutual funds, avoid buying insurance policies from banks too. They'll sell you terrible policies like ULIPS, endowment policies, cashback policies etc. They'll often show misleading returns to clinch the sale. In fact, don't buy any investment or insurance products. Just stick to using your banks for banking and nothing else. For your insurance needs, you can check out Ditto.
What does this all mean? I'm a new investor. I don't understand
While it seems like a trivial thing, where you buy your financial products is also important. So the simple thing is to stay away from banks. At Zerodha, for example, you can invest in direct mutual funds for free.
As for what and how to invest, we have Varsity for that
Related posts: