GDP to AUM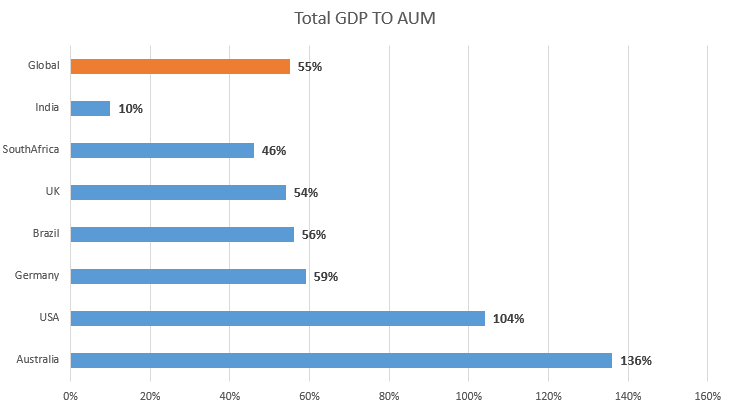 | Australia | USA | Germany | Brazil | UK | SouthAfrica | India | Global |
| --- | --- | --- | --- | --- | --- | --- | --- |
| 136% | 104% | 59% | 56% | 54% | 46% | 10% | 55% |
Mutual funds compared as a % of net financial savings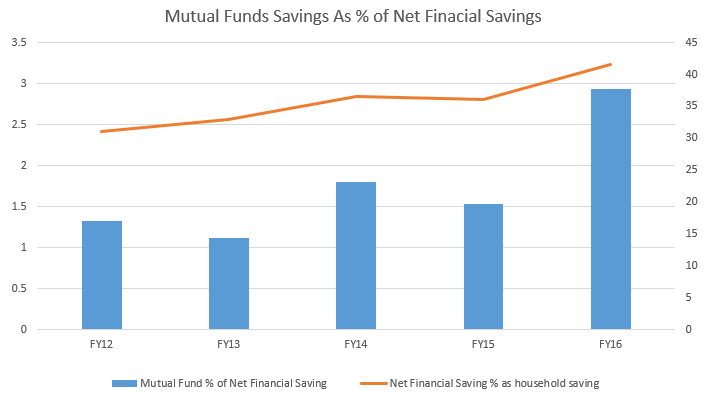 | Year | FY12 | FY13 | FY14 | FY15 | FY16 |
| --- | --- | --- | --- | --- | --- |
| Mutual Fund % of Net Financial Saving | 1.32 | 1.12 | 1.8 | 1.53 | 2.94 |
| Net Financial Saving % as household saving | 31.1 | 32.9 | 36.5 | 36.1 | 41.5 |
| Source: Reliance Nippon RHP | | | | | |
In spite of the record inflows into mutual funds, the penetration remains dismally low when compared against other developed peers. On the flipside, this goes to illustrate the vast untapped potential.
With bank deposits remaining the preferred choice of Indian households the future looks promising for mutual funds.
You can also do your bit by educating your friends and relatives about the benefits of mutual funds, especially direct.