So yeah, the new margin framework finally is going to be applicable from June 1st (as per this circular). Check this post to read about the new margin framework:
We have been getting many requests asking us for some sample calculations on what the new margins will be when trading F&O.
Here it is:
Check this document if the below image isn't clear.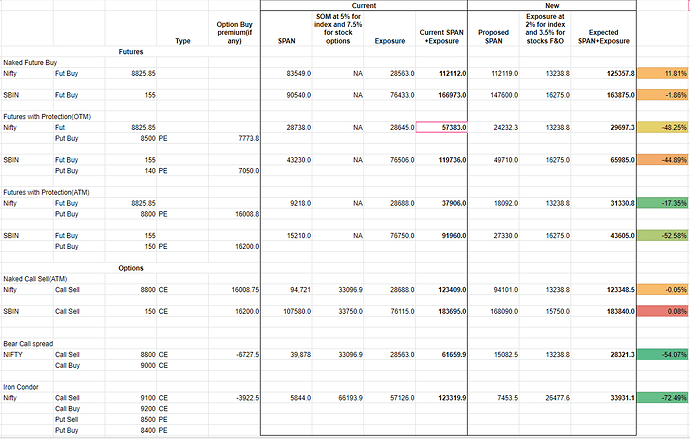 Like we had mentioned earlier,
Margin required is relatively the same for naked F&O positions.
Margin required for positions that have limited risk drops by up to a whopping 70%.
Price scan range is now 6 Sigma vs earlier 3.5 Sigma (both for stock and index F&O contracts). This means that if volatility picks up, margin increase will be higher than before for naked positions. This is the reason the Nifty futures margin is around 12% higher due to current increased volatility in the markets.
We will try putting out a new margin calculator soon, so you can try out the margin requirements for various strategies yourself.
Clearly this benefits people who trade spreads with limited risk significantly in terms of lower margin requirements. Here is once again, hoping that this new margin framework is the catalyst for the evolution of a new breed of low-risk option traders in India.
Updated 23rd May: NSE had a presentation on the new margin framework. Checkthis presentation, it has good info.