16th May update
The changes in the margin framework will be effective from June 1st, 2020. Check this NSE circular.
---
This has been a long time coming — margin reduction for positions that hedge each other. SEBI has just put out the new margin framework for cash and F&O (Equity and currency) segments. Check this.
Here is how margin requirements will change
Cash market
No change in margins. Check below for Group 1 stocks.
| | Current | New | Change |
| --- | --- | --- | --- |
| Group 1 | | | |
| VAR | 7.5% | 9% | |
| ELM | 5% | 3.50% | |
| Total | 12.50% | 12.50% | No change |
Earlier there was no fixed VAR + ELM structure for Group 2 and 3 stocks. Now it is minimum 21.5% VAR and 3.5% exposure margin for group 2 and minimum 50% VAR and 3.5% exposure margin for Group 3.
So margins remain relatively the same for cash/stocks.
F&O (Equity & Index)
Check this doc.
These are just approximate margin requirements, we will put out our new margin calculator as soon as we get all details on this.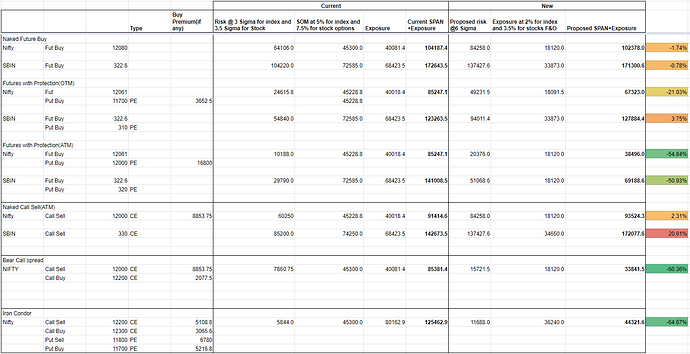 Highlights
Margin required is relatively the same for naked F&O positions.
Margin required for naked shorting of stock options seems to have gone up (double-checking this)
Margin required for positions which have limited risk drops by up to a whopping 70%.
Price scan range is now 6 Sigma vs earlier 3.5 Sigma (both for stocks and F&O). What this means is that if volatility picks up, margin increase will be higher than before.
I know some of you might have expected even lesser margin requirements for hedged positions, but as I have mentioned earlier - there are execution risks involved as well (client exiting the long options portion of the strategy and hence ending up holding the short positions with unlimited risk with very little margin). This new framework is a great starting point and hopefully as our markets mature the margin required for hedged positions go even lower from here.
Exchanges will most likely put out their circulars, and the new margins will most likely come into place from May 1st 2020.
So yeah, finally, trading Option strategies with the new lower margins will make business sense for all traders. This should hopefully get a new breed of traders to the markets. For all those who don't know much about trading Option strategies, here is how you can get started: