How to buy equities in premarket session (If I feel the market will go high) through zerodha?
Hi @Shivam_Gupta,
The facility of the pre market order is available only for equities and is used as a window by the exchange to determine what could be the opening price of the stock at the normal market opening at 9:15 am. So people who have their accounts with registered brokerages are allowed to place orders on the exchange during the 8 minutes from 9:00am to 9:08 am, there is non order execution at this time. The orders are collected and then matched between 9:08am to 9:15 am to determine the opening price at 9:15 am
For more:
check this
Cheers,
Lindo
Thanks @lindo,
I got the mechanism how does the pre-market and aftermarket session work but Still, I couldn't get how to put pre-market order?
Is it not possible by using zerodha platform?
There is an option of AMO in Zerodha but no option for premarket buying.
Hi Shivam,
To place an order in the pre and post market window there is no special order type, just your regular orders placed at that time is treated as a pre or post market order.
Thanks,
Lindo
previously I've tried to put an order by sharp 9.00 but got my orders canceled.
will try again
thanks

u should put after market orders. thats possible before 9 pm. check zerodha about about timings for amo orders
Hi Shivam,
Do try, and double check your watch and set it to match the exchange timings


Thanks,
Lindo
Dear Shivam,
You have to place the orders between 9:00 am to 9:08 am, since you placed it at 9:09:51 the orders getting rejected. Now you will have to place this during normal market after 9:15 am
Cheers,
Lindo
Dear @lindo,
Today I've placed three premarket orders between 9 am to 9.08 am but my orders were canceled.
Why??


Just now i recevied a message from saying that AMO are not working, please place it again at opening.
What do mean by

I wanted to place premarket order to book my profit ant that is only upto 9:08 am
What the hell is this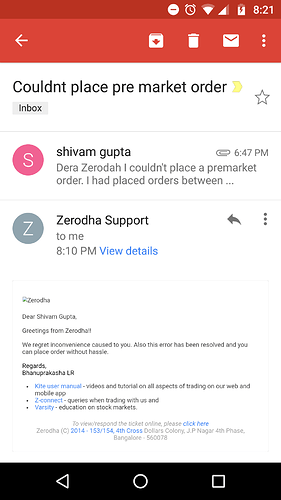 Now What should I do with this kind of reply and solution?
I could have made a profit of 60,000 but couldn't because of shitty service of zerodha.
Now Zerodha will reimburse/compensate 60,000 rs?? (I can prove how I couldn't make 60,000 profit)
Now, I feel if you go for a discount trading you will make more loss

If You are really not happy with the Zerodha services.
You can open account in some other Brokerage Houses Nowadays Opening Trading Account is Even simpler than opening a Regular Bank account.
I would like to hear where you missed this opportunity.
r u from zerodha? or asking on behalf of zerodha
No bro, I am not from Zerodha.
I am a client of Zerodha just like you and Member of this Community.
When I saw Dow Jones, Hangseng, and Nikkei have dropped by 3-4 % then I placed many equities for sell and thought to purchase again at the lower price.
I did the calculation of purchasing cost difference (Opening price and the lowest price of the day), it was more than 60K
I understand your situation.
Sometimes There are things which are not in our control.
All the best for Upcoming opportunities in future

that's true, But it was not the first time. We have a lot of issues with zerodha (Every broker has) but if you r not doing anything for its betterment (except apologies) and the same problem repeats over and over again (in case of zerodha) what does it mean ? u r not serious about ur business and u don't care ur customer.
u just brag yourself of having a discount brokerage. It's not the first time, I've lost opportunities many times to book profit.
Now zerodha has enough client and enough revenue to upgrade the software and the system.
Even in this conversation, no zerodha official made any comment. If it was in zerodha favor they would have replied with ample of citations
And now whats a guarantee that I won't have a loss in future (bcoz of zerodha)??