As we all know SEBI had in 2020 introduced peak margin requirements, taking 5 snapshots at random intervals to check whether sufficient margins were maintained or not. And if there was any shortfall it resulted in a peak margin penalty.
SEBI in its recent circular made changes to this. According to the circular:
The margin requirements to be considered for the intra-day snapshots, in derivatives segments (including commodity derivatives), shall be calculated based on the fixed Beginning of Day (BOD) margin parameters. The BOD margin parameters would include all SPAN margin parameters as well as ELM requirements.

There shall be no change in methodology of determination and collection of End of Day (EOD)margin obligation of the client. Also, there shall be no change in the provisions relating to collection and reporting of margins in the cash segment.

All the changes will be applicable from 1st August, 2022.
While this doesn't mean we will get leverage for trading in F&O segment like we used to before the peak margin rule came into effect. But it does provide relief as we will not have to worry about intraday margin spikes resulting in peak margin penalty if we didn't have sufficient margins.
SEBI circular: SEBI | Changes to the Framework to Enable Verification of Upfront Collection of Margins from Clients in Cash and Derivatives segments
What does it mean to traders like us?
If a trader has taken positions and the margin goes up intraday, there won't be any peak margin penalty on those positions. This was the biggest reason for margins going up. The flip side with this is that since the beginning SPAN file is used as reference for the day, if the margins drop, there won't be margin benefit intraday.
But this circular still doesn't solve the issue of margin going up when a trader who has multiple F&O positions exits one resulting in overall margin going up and peak margin penalty on that.
Assume a trader has Rs 1.05 lks in the account and takes a future position with a long put as shown below. Since the position is now hedged, the margin for both positions drops from Rs 1lk to Rs 70k. Assume the trader withdraws Rs 35k from the account on the next day and the money in the account is only Rs 70k. If the trader exits the put position, the margin for futures will go up to Rs 1lk again leading to peak margin penalty.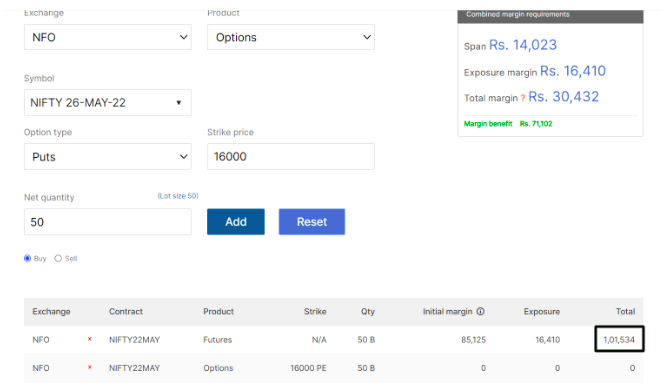 I think that it is a good move and a step in the right direction.