As we are aware, FNO income is taxable under the head 'Income from business and profession' and the gains we generate on trading shares on delivery basis is taxed ur the head 'Capital Gains'
The existing tax rates applicable are as follows
Income from business: Slab Rates
Story term capital gain: 15 percent
Considering the above I was planning a strategy to reduce my tax liability and I would like to share the same here.
Requirements for this strategy to work:
FNO income falls in 30 percent tax bracket
Good capital
Strategy:
Step 1: Buy Deep ITM (At least 20 percent away) call option of the most liquid stock that you know 3 days before the expiry date. (Monday of the monthly expiry week)
Step 2: Simultaneously sell futures of the same stock of the following month expiry.
Step 3: Accept delivery of the same on expiry.
Step 4: Sell the stock and close the futures position simultaneously once the stock is credited to your demat account(Tuesday following the month expiry)
I will elaborate the same using an example of a stock that I actually used.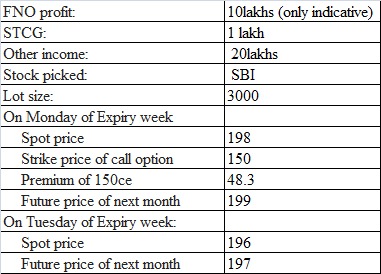 Implementation:
Bought 150ce at 48.3 by paying Rs.144,900
Sold futures of next month at 199 for a margin of Rs.160,000
Kept cash of Rs.450,000 aside to take delivery on expiry.
Sold 3000 shares of SBI at 196 and closed futures at 197 on Tuesday following the expiry.
Result:

The questions you may have:
Did I actually do all of this? Yes
Is this tax planning or tax evasion: Well. It's within the provisions The Income Tax Act. If tax loss harvesting is tax planning then so is this.
Was it really worth it? I was just trying to check if it works. I was even ready to lose some amount if something went wrong.
Limitations:
If you can generate more than the saving from the funds blocked for 8 days then it makes no sense.
If the option is illiquid then, your cost may increase because of bid ask Spread.
Future premium to Spot may change over the period of 8 days. Theoretical it should come down since the days to expiry will be lower. But you know anything can happen.
If you feel I have missed out on something please feel free to comment. Your views shall be appreciated.
Edit: 1. Had made a small mistake earlier in the calculation of profits from futures. Now stands corrected.
2. Tax savings on FNO segment were not considered earlier. Since such expenses are allowed to be deducted, the effect for the same is given.