These spam messages are a big nuisance. Have to delete couple of such sms daily.
Even I got the same message and been getting the message form the same address. I am very new user and I haven't shared my contact details with anyone except zerodha not sure how these guys get the numbers.
How do these companies get our mobile numbers?
I think Zerodha shared our phone numbers. Or from NSE
I don't think Zerodha would do something like that!
NSE, BSE, NSDL, CDSL quite possible.
You can also read the links below:
i received it in both my numbers .
one of the number is not linked with any broker , so problem lies somewhere else .
don't think we can avoid this
Airtel and Reliance- the biggest cheaters.
Today BRFL further down by 10% no buyers , stock operates using SMS / Mail to dump stocks to retailers. , but Media is silent about BRFL
And it will continue falling every day.
Does SEBI take any action against these companies?
I tried to short at 215

but intraday trading is not allowed in this scrip


its a daring act , but try to avoid short , stocks with circuit limit , its better to do intra day in FNO stocks

SEBI does not do anything , until , unless any body post about BRFL on Facebook

SEBI doesn't do anything. Sometimes they even try to protect Big Brokerage houses even if they are at fault.
I have registered some sites for updated news.
I think they have sold the entire database to those scammers
Like everyone else I've also been getting a lot of these tipster sms's. I use this app called SMS Organizer which has the option to move certain SMS to Blocked category whereby though we get the msgs there won't be any notifications. Of course the problem is the msgs keep coming from new sources once in few days so ull have to keep adding them to this category. Then I delete them all once a week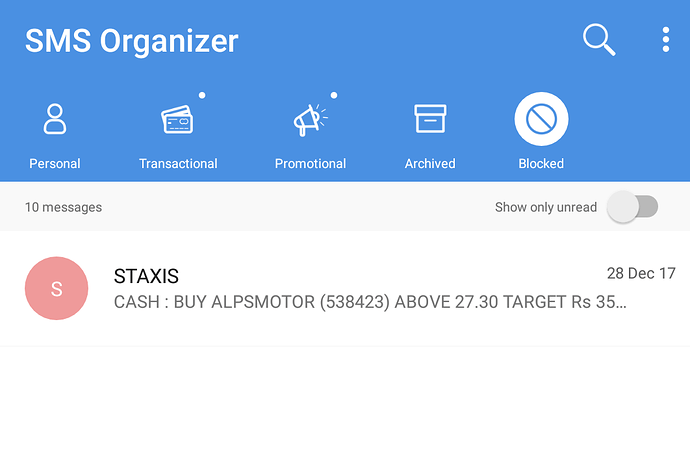 If anyone is looking for this app on Play Store:
we need a real solution from TRAI / Telecom ministry , instead of try out ourselves for ,solution , Tipster SMS was so annoying for me that , i registered a Grievance ( ,https://pgportal.gov.in/grievanceNew.aspx) i got acknowledge and after for few days there was no Tipster SMS , now again started , If anybody finds some solution will be of great help