As Warren Buffet says, 'Stock picking is not everyone's cup of tea.' As the festive season approaches, investors entering the market for the first time and looking for value options to invest for the long-term can consider investing in ETFs instead. Let's explore in detail what are ETFs and what factors to consider when deciding to go for an ETF?
An ETF is called an exchange traded fund because it's traded on an exchange just like stocks are.
How do ETFs work?
It comprises a basket of securities (stocks/bonds/gold) that trade on an exchange. ETF's market prices fluctuate all day as ETF units are traded at any time during market hours at real time prices. As a result, investors can buy ETF units of that basket, just like buying shares of a company.
Equity ETFs offer diversification by tracking different companies in a sector or industry in a single fund, thereby helping to reduce downside risks.
The great thing about ETFs is that one can invest it in small units. Thus, investors can buy as less as one ETF unit on the click of a button!
Types of ETFs
The most common types of ETFs in India are:
Equity ETFs: Tracks a particular index of stocks and mimics its returns
Bond or Fixed Income ETFs - Tracks a portfolio of corporate and/or government bonds
Gold ETFs - Tracks the price of gold and generates returns in line with the returns of physical Gold.
Silver ETFs – Recently, market regular SEBI has allowed mutual fund houses to introduce Silver ETFs which will offer diversification to an investor's portfolio.
How do you research ETFs?
There is a wide variety of ETFs available in the markets today. As per data from AMFI, the number of mutual fund schemes linked to the ETF rose to 103 in September, compared with 71 two years ago. This can make the process of ETF selection a whole lot cumbersome and time-consuming.
Here are some questions you might want to consider before you decide to finalize on an ETF:
What is your time frame for investing?
What is the goal that you want to achieve?
Which sectors or themes interest you?
What are the factors to consider when investing in ETFs?
1. Underlying sector or Index: You need to first decide on the market or before committing to an ETF. Determine whether you wish to invest in the benchmark index as a whole or a specific sectoral index or theme. A benchmark ETF such as Nifty 50 ETF would generally buy the stocks of various sectors that are part of the index, but a thematic or sectoral ETF such as healthcare would focus only on the stocks in that sector. There are ETFs tracking index as per market index such as mid and small caps. There are ETFs that track international indices.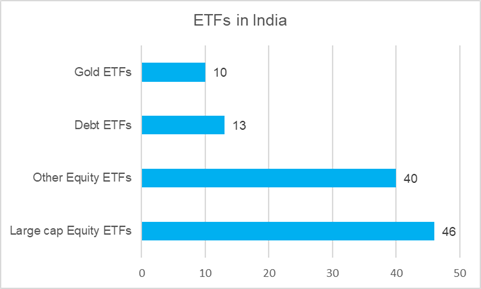 Source: valueresearch.com
2. Costs of the ETF: The investor needs to consider the explicit and implicit costs. Explicit costs comprise the expense ratio and brokerage fees. An expense ratio is the annual fee charged by an ETF to cover its expenses. This includes costs associated with managing the fund, such as administration, portfolio management, marketing, among others.
Whereas implicit costs could be the tracking error which in turn can mean different expense ratios. Hence, select an ETF with a low expense ratio.
3. Tracking Error: Tracking error is the difference between index return and the ETF return, which can impact an investor's returns. Choose an ETF with a lower tracking error to its benchmark. Tracking error is defined as the standard deviation of the difference in returns between the ETF and the index.
4. NAV of the ETF: Your investment in the ETF could increase or decrease in value as the price of the underlying stocks/bonds/gold changes.
Thus, Exchange-traded funds (ETFs) are ideal for investors beginning to enter the market due to their many benefits such as relatively low expense ratios, abundant liquidity, range of investment choices, diversification, smaller denominations, and so on.
Disclaimer: The views expressed here in this Article / Video are for general information and reading purpose only and do not constitute any guidelines and recommendations on any course of action to be followed by the reader. Quantum AMC / Quantum Mutual Fund is not guaranteeing / offering / communicating any indicative yield on investments made in the scheme(s). The views are not meant to serve as a professional guide / investment advice / intended to be an offer or solicitation for the purchase or sale of any financial product or instrument or mutual fund units for the reader. The Article / Video has been prepared on the basis of publicly available information, internally developed data and other sources believed to be reliable. Whilst no action has been solicited based upon the information provided herein, due care has been taken to ensure that the facts are accurate, and views given are fair and reasonable as on date. Readers of the Article / Video should rely on information/data arising out of their own investigations and advised to seek independent professional advice and arrive at an informed decision before making any investments. None of the Quantum Advisors, Quantum AMC, Quantum Trustee or Quantum Mutual Fund, their Affiliates or Representative shall be liable for any direct, indirect, special, incidental, consequential, punitive or exemplary losses or damages including lost profits arising in any way on account of any action taken basis the data / information / views provided in the Article / video.
Mutual fund investments are subject to market risks read all scheme related documents carefully.