Post Your Trades… Share Your Stretegy And Have a Safe Trade

Strategy : Moving averages crossover (both trades were in loss).
The winning trade had no strategy (just a revenge trade).
I am beginning to think that TA does not work at all.
Please check out this Telegram Channel.. Someone is doing really great work with proper entry, target and stop-loss levels.
i have more or less same view when comes to mathematical indicators for intraday and swing trading …
risk management and trading strategies should be given more importantance … for me volume + price leads every other indicator
if you learning reduce your quantity further down , 2k is not a big loss , but in the long run you will end up forcing yourself to reocver all and end up in even more losses
Based on TA , still holding , my assumption on Nifty on last Friday , Nifty pulled back over 10400 quickly , another 40-50 point on up side possible and i assume BN is not so lucky , so fall back quickly

I Do Also Have Subscribe To This New Channel Its Good And Really Great For Positional Trade.
Hi @nithin i am writing this on behalf of our trading group of 75 people ,today we placed bracket orders and are unable to exit it,even as the stoploss has been crossed an hour ago. I tried all possible ways to contact your team .and alas after a long wait of 1hr your customer rep responded.but all he said was sorry and nothing else.our orders are still open and our losses are still getting worse…when asked about the rectification of losses we have suffered due to your mistakes he just told me cold on my face a big NO.we r really disappointed that team zerodha has broken all our trust.and this is not the first time.now all we are left with is to move to the COURT and SEBI griviances redressal desk…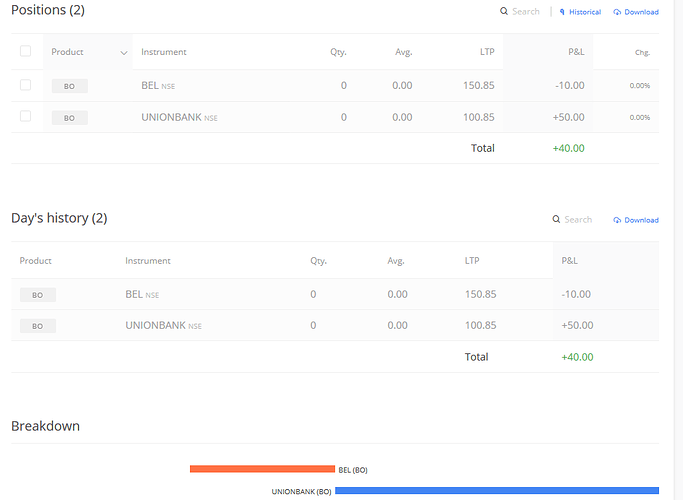 my goal is to be in green consistently.
I use this screener :https://docs.google.com/spreadsheets/d/1bcKcy4cPgJpM0uY1oJlCR8Lbi7ClkQJgN2MNqt8fYlU/edit?chrome=false&rm=demo#gid=2068381642
I urge everybody who has lost money due to technical glitch in kite to go ahead and file a complaint at SEBI redress greviance cell…for more info call 1800227575
i think u r trading in zerodha…then how +40 will give u profit…As per my knowledge ur brokarage will be 80+taxes…means in other words ur in loss…plz explain if i m wrong
what we can get from this screener. Can we make out intraday calls ? Guidepls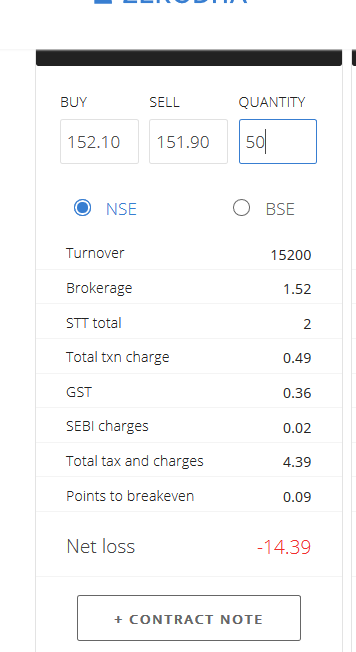 well! actual profit after brokerage and charges will be around Rs 29
brokerage in zerodha is 0.01% or 20 whichever is lower.
i just look for stocks which are near day high/low and with high volume. these kind of stocks have the ability to move further up or down.
and i am also a beginner that's why i am getting in with very small size
Probably my last trade.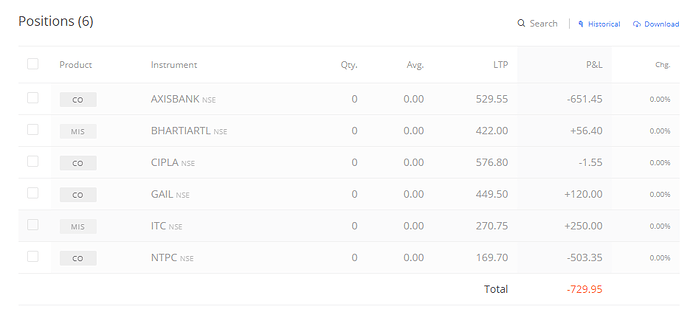 Trading account balance is almost exhausted.
In past 3 months suffered Rs.30,000 loss in hopes of making atleast Rs.100/day.
Read so much about technical analysis, purchased books, but to no avail.
Technical Analysis simply didn't worked for me.
Also tried swing trading with more success than intraday, but profits are very minute.
Just not worth the time.
I guess this is stock market, gain little and lose big.
I am posting this in reply to amjay. Not sure why it gets posted as separate thread instead of reply.
Based on your post I think you are an intraday trader in equity segment. Probably you are attracted by the intraday margin or BO and CO.
In derivatives segment there is a segment known as options. I will explain the benefits of each segment advantages and disadvantages.
Intraday trading has unlimited profit with unlimited risk.
Futures trading is also unlimited profit with unlimited risk. One exception is you have more time upto future expiry.
Options buying has unlimited profit with limited risk. Options also have time till expiry. Very small margin required for options trading.
Options selling has limited profit with unlimited risk. Time limit till expiry.
Just don't jump straight into options trading. There are many options strategy. Learn as many strategy as possible. Depending upon current trend, implement one you can get profit or loss depending upon market movement.
Today I used an option strategy known as long strangle between banknifty 25100 CE and 24800 pe. Total cost is 8000 per lot 40 * 110 + 40 * 98.
I was expecting 100 points movement in positive direction so I will benefit from 25100 CE option.
But unexpectedly banknifty index moved 250 points in the negative direction.
Booked profit of 1200 rupees even though market did not moved in expected direction.
40*30 + 40 * 220 = 10000
Long strangle is just one option strategy. There are many other strategy based on market conditions.
If I was greedy, my loss would be 2800 rupees or 70% loss in one trade. But to tackle the unexpected movement in opposite direction, I employed long strangle and gained a profit of 20%