INTRADAY TRADING ALERT : 9 APRIL , 2018
TODAY P/L :: - 0.81 R = - 81 RS. (- 0.27%)


SWING TRADE : 10 APRIL,2018

Sold delivery shares of mahindra and mahindrz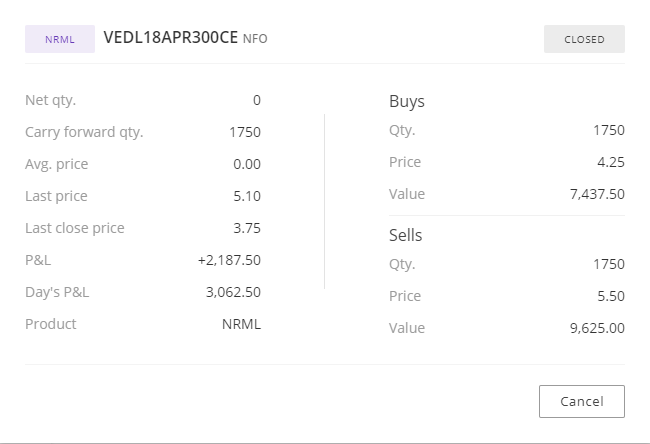 INTRADAY TRADING ALERT : 10 APRIL , 2018
TODAY P/L :: - 0.23 R = - 23 RS. (- 0.08%)



SWING TRADING REVIEW
Along with profit image, also write oneliner like "why you made this trade?", "about trade setup", "technical/chart used" etc…
I agree, otherwise what's the point of posting your profit or loss, there is no takeaway/learning from that picture for others. Sharing the wisdom behind the trade would be if some use to others.
INTRADAY TRADING ALERT : 11 APRIL , 2018
TODAY PROFIT :: 1.97 R = 197 RS. ( 0.65%)


SWING TRADING REVIEW
There is no update.
i observe nifty support and resistance in intraday then buy and sell stock at support and resistance because most of the stock follow nifty' trend