Hello and welcome to the weekly trading diary, a thread for discussing your trades, strategies, ideas, news, stories, etc.
---
A quick look at how the markets fared in the week gone by;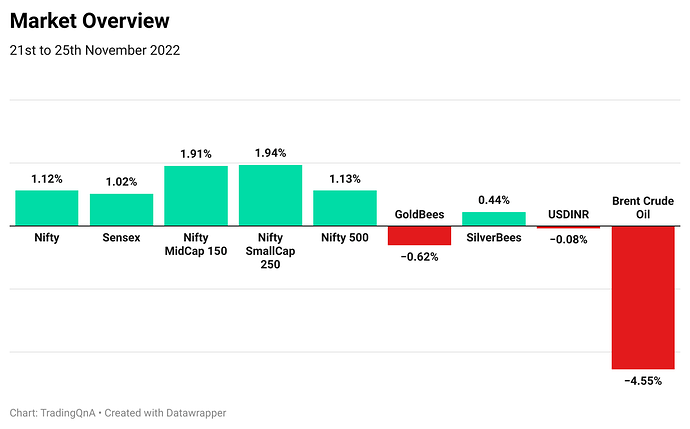 After posting small losses in the previous week, markets were back in the green in the week ending 25th November. Nifty and Sensex ended the week higher by over a per cent each, closing at all-time highs. Nifty closed the week at 18512.75 while Sensex at 62293.64.
---
On the sectoral front, all indices apart from Nifty Realty and Energy indexes closed the week in green. Nifty Media and PSU Bank were the top gainers, surging over 5% each.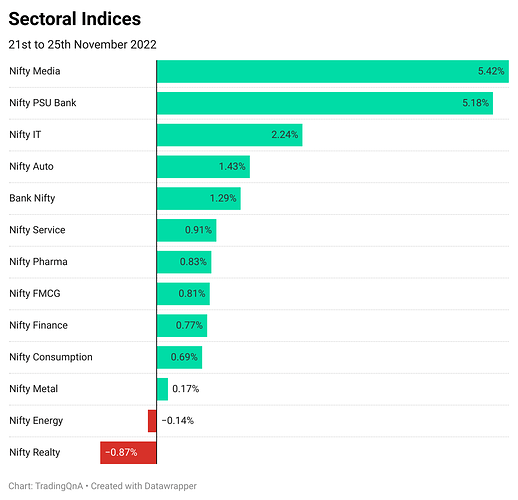 ---
Global market performance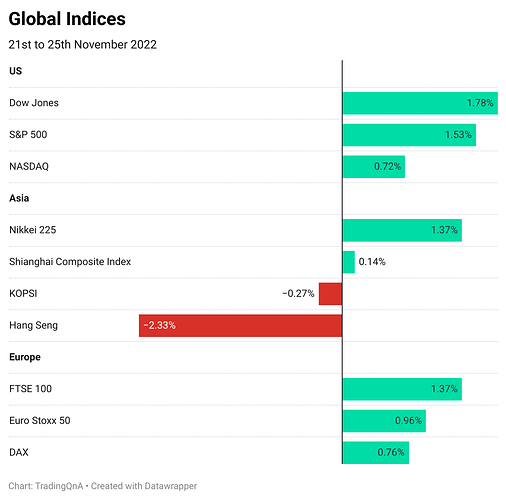 ---
Things to watch out for in the coming week;
IPOs
| | Period | Price | Lot Size | Issue Size |
| --- | --- | --- | --- | --- |
| Dharmaj Crop Guard Limited | 28th to 30th Nov | Rs. 216- 237 | 60 and multiples thereof | Rs. 251.15 crores |
| Uniparts India Limited | 30th Nov to 2nd Dec | Rs. 545 – 577 | 25and multiples thereof | Rs. 835.61 crores |
---
Economic events
| 28th November | | 29th November | | 30th November | | 1st December | | 2nd December |
| --- | --- | --- | --- | --- | --- | --- | --- | --- |
| | Japan | Retail Sales (OCT) | India | GDP Growth (Q2FY23) | China | Caixin Manufacturing PMI (NOV) | US | Unemployment Rate (NOV) |
| | US | Consumer Confidence (NOV) | | Industrial Production (OCT) | Eurozone | Manufacturing PMI (NOV) | | Nonfarm Payrolls (NOV) |
| | | | Japan | Industrial Production (OCT) | | Unemployment Rate (OCT) | | |
| | | | China | Manufacturing PMI (NOV) | UK | Manufacturing PMI (NOV) | | |
| | | | | Non-Manufacturing PMI (NOV) | US | Jobless Claims (OCT) | | |
| | | | Eurozone | CPI Inflation(NOV) | | ISM Manufactuing PMI (NOV) | | |
| | | | US | GDP Growth (Q3CY22) | | | | |
| | | | | Nonfarm Employment Change (NOV) | | | | |
| | | | | Home Sales | | | | |
| | | | | Crude Oil Inventories | | | | |
---
What are you looking forward to in the week? Share below and join the discussion