Weekly trading diary: November Week 3, Profit/Loss for 13 Nov - 17 Nov 2017.
All The Best Guys For New Week.
Keep an Eye on Good Stock Make This week Profitable.
If possible share some good stocks with their targets…
I will try to make this week profitable,
L&T reports 27% jump in Q2 profit at Rs 1,820 crore, secures orders worth Rs 28,732 crore.
I have This Stock in My WatchList Larsen & Toubro.
NO, ONE KNOWS THE REAL TARGET OF ANY STOCK.
After Looking at all the Data, I Think This Stock will Cross 1300 Levels Very Soon.
- BULLISH PATTERN
- TRADING ABOVE EMA
- MONTHLY HIGH CROSSOVER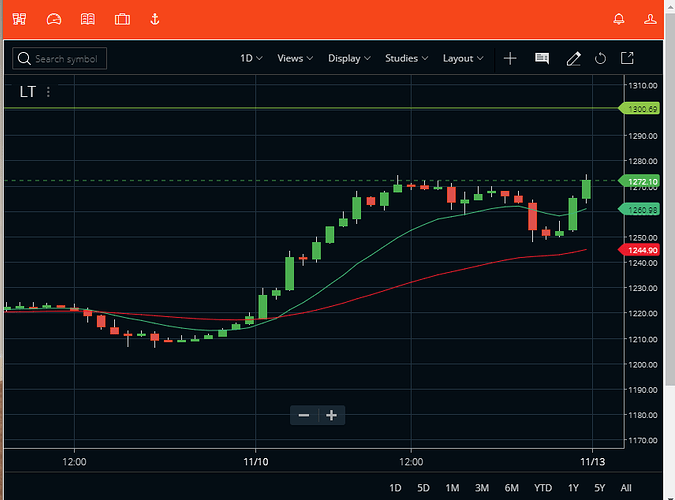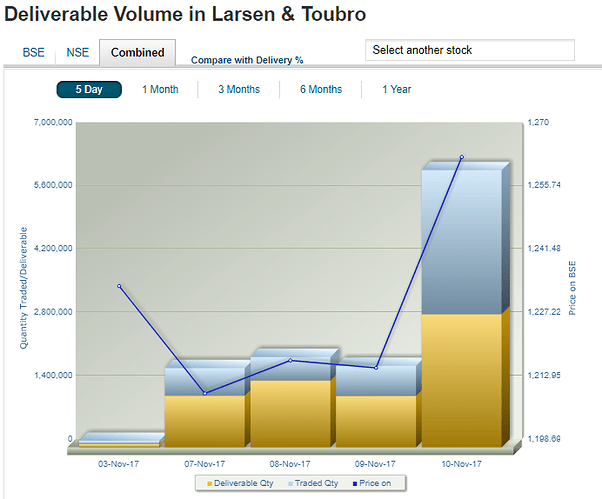 Why waste so much time on analysis? This company posted good results, beating all estimates. It will open gap up & cross 1300. Anyone can tell you this.
So tomorrow morning short call or buy
Many shares after good results open gap up. But it start downward during 9:15. So what should we do tomorrow morning?
Hey @Spaceship Brother Not Wasting my Time. For me Its Learning and Learning is Good.
Wait for Tomorrow Opening…
It depends alot on overall market trend too.
Don't Enter in Any Intraday Trade with Pre mindset. Look at Live condition Then Take any decision.
Your target achievable , LT almost at/ near resistance ( 1269/1272)

Yes, It's has to Break These levels with good volume.
Nice. wish you best of luck for your (paper / live) trade





Thank you and all the best for your Trade.
I Never Did Paper Trading in my Life.
Shorted 2 lots rcom futures @ 13 & squared off @ 12.5
total profit = 28000 x 0.5 = 14000 less taxes.
Position in idea futures squared off.
Made a mess of it but still exited in profit. I wanted to short at 98 levels & would have made big 4 rs.
Shorted 2 lot @ 95 & squared off at 94.6
Profit = 14000x .4 = 5600 less taxes.