@nithin Why does Zerodha not work on improving time taken to reach phone support executives? Why don't you use chatbots?
This is an extremely complex problem for us to solve. Let me explain why.
Over 90% of queries that we get on our phone support are usually super simple queries that any customer can find the answer to on our support portal. The customer could potentially just google search as well. But unfortunately, many people don't and end up calling us. Offering phone support at scale with our pricing model is extremely tough, we'd need thousands of people on our support team. The only way possible would be if we changed our pricing model, which wouldn't make sense as well.
We are working on a bunch of things, the main one being to nudge the customer to use the support portal for easy to answer queries. We intend to do this by maybe charging for such calls for easy queries. If we stopped getting calls for simple queries, we could answer the tougher ones in quick time.
We have tried many chatbot platforms, most don't do a good job. The search on our support portal works quite well.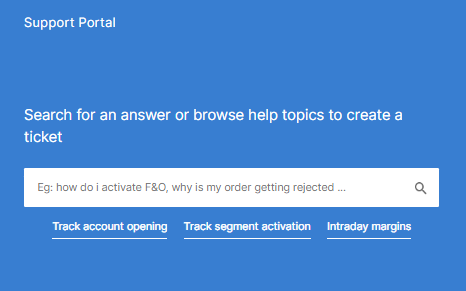 If you have a query, do search our support portal once before trying to call us. If all our customers did that, it will help us offer a better service on phone.
Hopefully, this makes sense.
True, but that's the case with most customer support related queries. Also, when money's involved, people sometimes want to be doubly sure of things.
The problem with those 90 % of people is that they make it tough for people who have genuine specific queries, for which there's no answer on Google or anywhere else. One can't ever get through to customer support on phone, the emails often get delayed generic replies, and on this forum, the query may or may not always get resolved.
I do understand the issues you mentioned but things need to improve. Maybe have a separate line for people who keep higher amount of funds, or like you mentioned, charges for calls could be another solution.
@suresh, you can also use TradingQna forums, they are very effective in getting help or resolution from zerodha team.
@nithin sharing an idea. Can't the tradingqna community be extended. Say existing tradingqna users may apply to volunteer or get some gratification for answering user queries. Users may submit their area of expertise and available time slot etc and receive calls during that time, if any. So a crowdsourcing model to trusted zerodha user base.
We have thought about this. The issue is to solve a query in most cases, you'd need access to some customer data. The kind of folks who call us want more than just what is available publicly. Sharing customer data with another customer, hmm… can't really be done.
How about a chatbot support?
Even the ticket support has become quite bad, they don't reply to tickets unless I message some moderator on this thread. When I try to create a thread regarding my issue here then the moderator doesn't approves it and directs me to use ticket support.
My issue is that I never received CAS on my email and when I try to download it from CDSL website I get the following error "Not eligible for CAS for selected period". I created a ticket with Zerodha for this issue and they told me to contact CDSL on [email protected], I did the same on April 2, I also emailed on [email protected] on April 7 but so far I haven't received any response. In the thread I was asking can Zerodha being my DP help in this case as their support is just giving me copy-paste replies about eligibilty criteria for CAS.
Have answered in the post above.
Zerodha customer service is terrible these days. I am a very active trader and their delays have even cost me money. I pay hefty brokerage monthly but still get shitty customer service.
One of my recent ticket got a response in 7 days, and even that was not a satisfactory response.
It used to be good. I hate to say, but these days, they are more interested in filling their pockets than providing an excellent experience. They can prioritize or even provide a dedicated relationship manager for their high turnover clients.
But they would rather make us go through support ticket with brain dead executives who would take ages to respond, and even after that, reply with a generic stupid answer.
We are working on few things and hopefully in next few months we believe there will be a considerable positive change in terms of quality and time it take to answer tickets.
Not only phone support. Even ticketing system works very slow. Recently for a query got response after 4 days.
@nithin You could perhaps consider providing priority support to active traders generating more than, say, Rs. 5,000 brokerage a month
We have some plans for revenue generating clients, give us couple more months.
But then isn't it contradicting the founding principles of Zerodha to not to discriminate between clients? I had heard it from Nithin only in one of his interviews.
I know, there is emotion role plays on not getting replies, for that Won't it be good to include SLA resolution time in your client reply emails. At least they can wait for that much time before contacting and you guys also get a breathable time.
Saw an article about Robinhood facing a similar issue -
Hi, Suresh Ji, I need your guidance in case of Gujarat Coke Share. I read ur query somewhere you are also having Gujarat Coke Shares. Do you have any update on the same??? My mobile no is 9977522285. Nowadyas i am searching the ways to get back my monies from these companies.