It's that time of the year when you make new year personal finance resolutions that you won't keep. Look, by the time you get around reading this, a billion articles on personal finance would have already been written. But what I am about to suggest isn't the same wishy-washy bullshit everybody else writes. Here are some things that should definitely do and if not you will end up regretting and big-time based my own personal experiences.
If you've been thinking about starting investing for a while but haven't got around yet, here's another new year. I don't know what makes Jan 1st special as opposed to Dec 31, but hey whatever floats people's boats.
If the thought of being broke and homeless doesn't motivate you to start saving and investing nothing will. - Me
Think about it; retirement readiness is a massive problem not only in India but around the world. Education, healthcare costs are rising at a faster rate than the headline inflation number, and it will only continue to. And the chump change that is deducted from your salary as EPF won't be enough, without a doubt. Then there is also your personal (lifestyle) inflation rate - meaning our tendency to spend higher amounts as opposed to saving. To summarise, if you don't start saving enough for your retirement, you are in serious trouble.
Some simple pointers to start saving and investing
1. Just start!
This is the hardest thing to do. Just start saving, you can even start with a fixed deposit or a government bond to keep simple but start.
2. Mutual funds are awesome
Mutual funds are one of the best instruments to invest for the long term but they are seriously misunderstood and misused. Don't pick a mutual fund randomly from some recommendations list. Picking a mutual fund is simple but not easy. There are various ways to pick a mutual fund but don't blindly choose them based on platform recommendations, star ratings, or ET Money or Moneycontrol recommendations. Here's a handy guide on picking a fund. Personally I believe picking a right actively managed fund is almost impossible.
Let me repeat: Don't invest based on mutual fund recommendations on platforms. At best just use those funds in your shortlist.
Don't invest based on star ratings - NEVER! Again, at best use star ratings as a way to shortlist funds.
Don't invest based on mutual fund recommendations on blogs, websites, TV, magazines etc. NEVER!
Also listen to:
3. If you are a beginner
If you are investing for the first time, you can pick any Balanced Advantage Mutual Fund from the top 10 AMCs and you re good to go. A balanced fund invests in both equity and debt and the fund will do everything for you.
Or you can pick a Nifty 100 index fund and a debt fund from Liquid, Ultra-short, or Money market fund categories. To figure out a starting place for your equity and debt allocation use the old 100 minus your age rule of thumb. So if you are 20, put 80% of your money in equity and 20% in debt
This is a rule of thumb and not a rule! You can then learn more about personal finance, asset allocation and adjust your portfolio accordingly. But to just start, this rule of thumb works fine.
You can also pick an ELSS mutual fund. These funds give you a tax benefit and have a lock-in of 3 years. Look, we are humans, and we are flawed. If you are getting started with investing and assuming that there is a market crash, you may be scared. That's perfectly fine, what is not okay is you reacting to the panic and selling your funds. Markets go up and go down; that's their nature. Your job is stick to the duration of your goal and not react to them. Since an ELSS fund has a lock-in of 3 years, that will stop you from making dumb things to an extent.
Here's another low-cost strategy that you implement quite easily:
https://www.capitalmindwealth.com/market/
Please don't pick stocks directly, you can do that much later. If you still have to then smallcase is a better option. Don't pick stocks based somebody's recommendations, CNBC, ETF Now. SMS or anything else. Picking a stock is HARDDD! That chances of you losing money are infinitely higher than you making money.
4. Costs matter!!!
When it comes to investing, you cannot control the direction of the markets, the returns you get or when. All you can do is keep your costs low and your behaviour in check. Let's take costs first
So, when you invest in a mutual fund, there are two plans - direct and regular. It's the same fund, same fund manager but two plans.
Direct mutual funds have ZERO commissions and hence have lower commissions. Regular mutual funds are sold by distributors, banks etc. Now, they need to be paid to sell them and the AMC pays them a commission and hence regular mutual funds have a higher expense ratio. Here's an example, look at the difference between regular and direct plans. 0.66% is what the AMC pays the distributors. Even though it seems like a small number, costs compound in the long run. The longer you invest the higher in commissions you pay. For example, if you had invested Rs 5000 PM for 25 years, you would have paid Rs 6 lakh in commissions. A tiny number like 0.66% make an insane difference.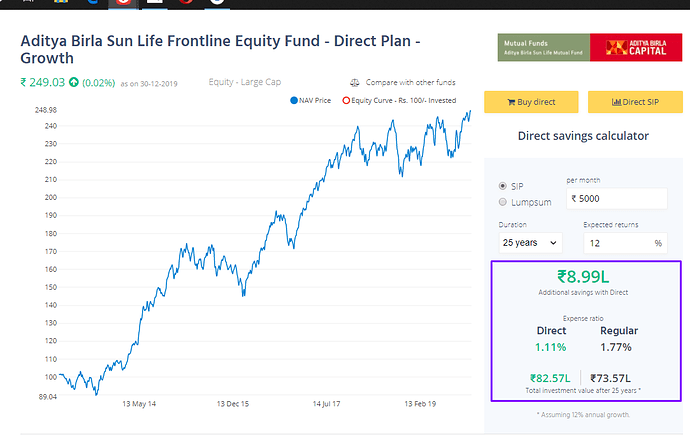 So, do your research on a fund, and always pick the direct plan of a mutual fund. Zerodha Coin only offers direct mutual funds and for free.
Behaviour
The second important thing you can control is your behaviour. If you are investing for the long term it's very important to have goals. And the second important thing is to stay invested no matter what. The Indian markets have historically gone up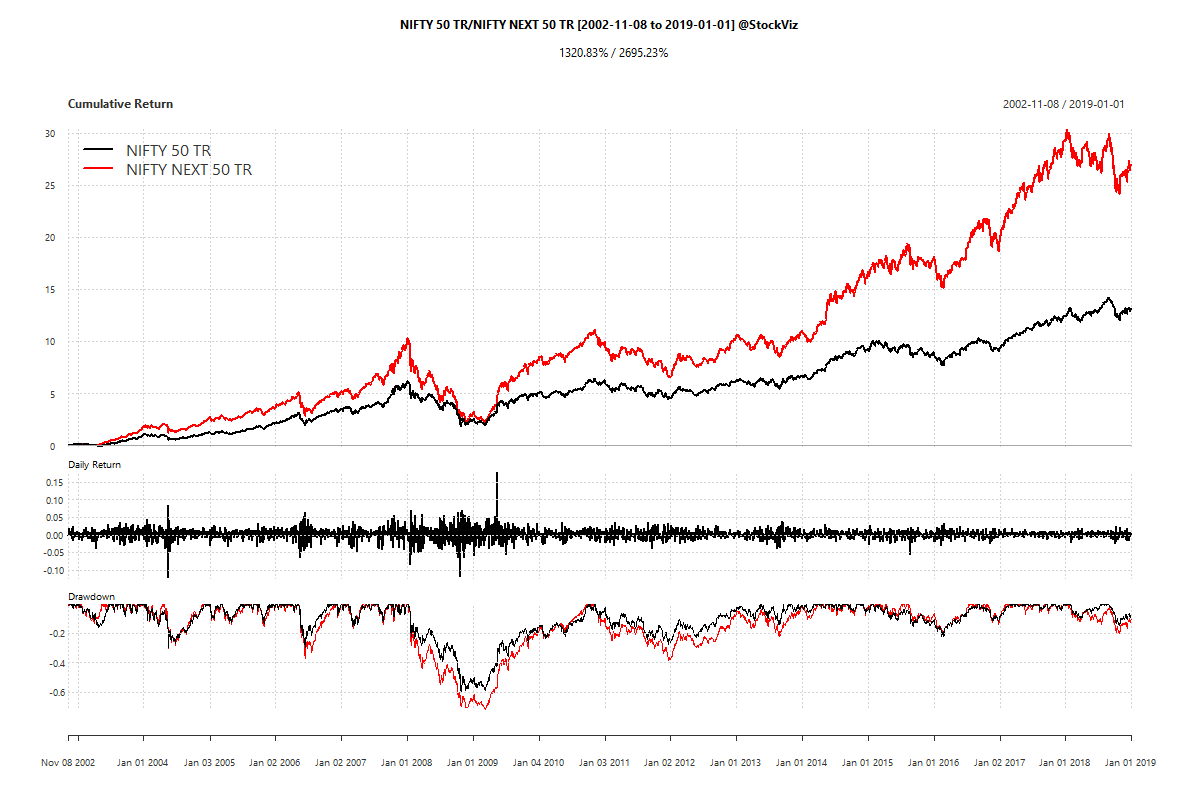 Looks nice doesn't it? Even though the long-term return looks beautiful, the markets do go down. For example, here are the 5 biggest crashes in Nifty 50 and Nifty Next 50
Nifty 50
| From | Trough | To | Depth | Length | To Trough | Recovery |
| --- | --- | --- | --- | --- | --- | --- |
| 2008-01-09 | 2008-10-27 | 2010-10-01 | -59.50% | 672 | 198 | 474 |
| 2001-02-16 | 2001-09-21 | 2003-08-27 | -38.94% | 631 | 150 | 481 |
| 2004-01-15 | 2004-05-17 | 2004-11-30 | -29.75% | 221 | 83 | 138 |
| 2006-05-11 | 2006-06-14 | 2006-10-16 | -29.72% | 112 | 25 | 87 |
| 2010-11-08 | 2011-12-20 | 2013-05-15 | -27.20% | 629 | 277 | 352 |
Nifty Next 50
| From | Trough | To | Depth | Length | To Trough | Recovery |
| --- | --- | --- | --- | --- | --- | --- |
| 2008-01-07 | 2009-03-09 | 2010-09-20 | -72.13% | 665 | 287 | 378 |
| 2010-11-10 | 2011-12-20 | 2014-03-27 | -38.11% | 845 | 275 | 570 |
| 2006-05-11 | 2006-06-14 | 2006-12-04 | -37.12% | 146 | 25 | 121 |
| 2004-04-27 | 2004-05-17 | 2004-11-23 | -29.99% | 149 | 15 | 134 |
| 2015-08-07 | 2016-02-25 | 2016-07-12 | -20.97% | 228 | 137 | 91 |
60% to 70% but the subsequent recoveries have been quite sharp. To get the sweet return, you have bear some excruciating pain in the short run. Now, look, it is not easy to sit quietly while you fund falls 50% but that's how the markets work. If you have to get the returns over and above a safe Fixed Deposit, you will have to take the risk. The most important thing to do during these periods is not to do stupid things like selling our funds. Markets falls give you an opportunity to accumulate mutual fund units at lower prices. If the markets always went up, you are continuously buying units at just higher and higher prices.
Don't neglect insurance
If you ever come across any person who asks you to invest/buy any insurance policy other than a term insurance policy, run away from that person as if he has a bad disease. Never mix insurance and investments. Don't buy/invest in ULIPs, endowment policies, traditional investment policies, or annuities. These are all high-commission products. In most instances the guy selling you get up to 60% of your premiums as commissions. They also have a lot of hidden charges and costs that will come back to bite you.
Terms insurance is pure insurance, just like your bike insurance. Your nominees will get paid if you die - simple isn't it?
Have an emergency savings fund
There's plenty of research to show that people don't have enough cash on hand to meet emergency expense even as little as Rs 5000. How much should you have? There's no easy answer but some people do recommend 6 months of your living expenses. You can park this money in a liquid fund. Here's a handy post:
If you can't do it yourself, hire an advisor
If you don't have the time, ability, or patience to do all these things, you are better off hiring an advisor. And by an advisor, I mean a fee-only Registered Investment Advisor (RIA). Stay away from mutual fund distributors, bank employees, relationship managers, and LIC agents etc.
A fee-only advisor is a fiduciary - meaning he has to put your best interest first. He doesn't get any commissions from the manufacturer of the product. He only gets paid a fee by you. That way your interests and his interests are aligned.
No shortcuts, it takes work
If you across a get rich scheme, please stay away. There are NO get rich schemes. No trading webinar, seminar, or course can teach you to get rich quick. These are all scams designed to make the guy selling it rich. There is no substitute for reading the foundational concepts and learning by experimenting. If you fall for screenshots showing unrealistic profits, STAY AWAY!
There is no better place to start learning than Varsity - be it investing, trading, or personal finance.
https://zerodha.com/varsity/module/personalfinance/
You can also check out LearnApp courses
https://learnapp.co/
And these podcasts
Happy new year and please start saving and investing!