You are not supposed to charge any brokerage on delivery, but you have charged me, why ?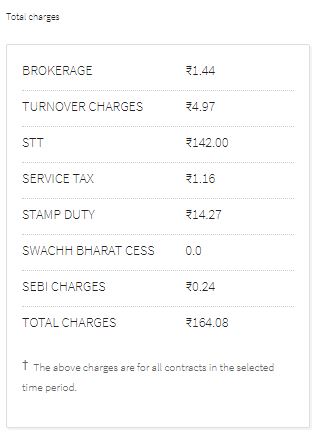 This forum isn't meant for account specific queries! Please create a ticket here support.zerodha.com/.
It is a generic as well as account specific, because Zerodha claims no brokerage incase of delivery…
We charge Rs 0.01 as a token amount brokerage for every trade. This is required by law (service can't be offered at Rs 0). You must have have done 144 delivery trades, hence you would have paid Rs 1.44.
You mean delivery brokerage charge is Rs 1 per 100 rupee of stock delivery?
I think what he means is charges would be
max[Rs 0.01, min (20, 0.01% of traded value)]
No, a token amount of Rs. 0.01 is charged irrespective of the value of the trade. This is because the law doesn't allow a service to b charged 0.
Where have I seen your mug? Do you blog on any market/personal finance sites?
I had a question, are there any repercussions if a broker decides to not even charge the token amount brokerage for delivery trades? I asked this question because I had recently noticed this in the Contract Note of another broker that I use. I came across a post in a different thread (referenced below), which mentioned that the token amount is charged so as to remain in compliance with the Indian contract laws. Would not charging the token amount somehow put the client at any disadvantage in case something goes wrong at the broker's end?
Hi,
I did a brief reading of the Indian Contracts Act, 1872 in this regard and learned the following:
A contract is an agreement which is legally enforceable. [Clause (h) of Section 2 of the Act]
An agreement in order to be enforceable by law, must be entered into through the free consent of the parties involved, have a lawful consideration and lawful object. [Section 10 of the Act]
An agreement made without consideration is generally considered void (i.e., no legal recourse).
Also, so long as a consideration is present and the parties' consent is freely given, the agreement is a contract, regardless of the adequacy or inadequacy of the consideration. [Section 25 of the Act]
So to summarise, I think that even though the agreement does not become illegal due to it not having a consideration, the parties to the agreement will not have a legal recourse, in the absence of a consideration.