Lot of people, including CNBC reporters, have been saying that 50% cash will be required for F&O positions from December 1st onwards. This is despite the fact that this rule has been there for years & there doesn't appear to be any new circular put out by the NSE regarding this.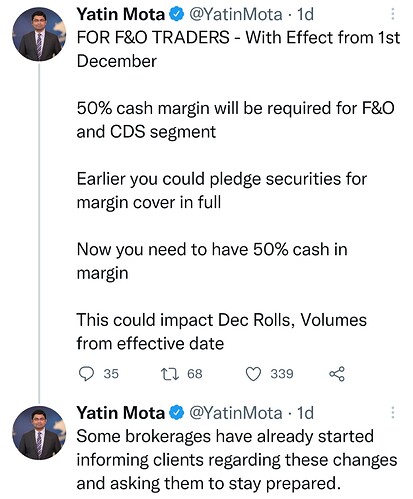 Is this for overnight & intraday both? Currently, even Zerodha allows intraday positions (without interest) by pledging shares.
Currently, many brokers are able to somewhat get around this rule by funding the clients themselves or charging higher brokerage. Does it mean now this option will be gone & traders will have to use their own cash or cash equivalent (like it's with Zerodha)?
@MohammedFaisal, can you throw some light on this? What really is going to change (if anything)?