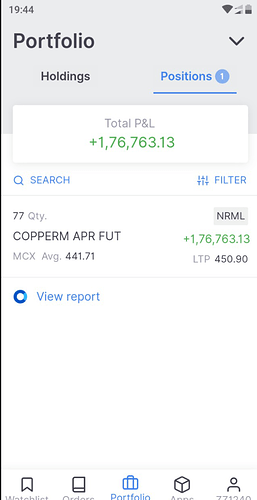 One of my recent trade in Copper Mini April contract. One time the profit was 2.5 Lac but finally my trailing SL hit at 2 Lac 20K (don't have the screenshot). When I took the trade my Risk was 18K only (Stop-loss).
Firstly, Congrats for this trade. Hope you are profitable like this consistently.
If I may ask, what is you general risk capacity for each trade? And capital that you use?
Congrats to both of you! But why others stoped posting this or things like that ? Are they scared a bit to be public ? But that is what that forum created for I think, please continue to post things like that and that way we'll be much more dedicated to our trades. How much money was used to achieve that ?
Yes, for just a 0.50 move
I Meant to ask first day of taking BO positions Right? Finally if its so! @anjanbabu
ha ha! You should TIP me then. .0.15 Paise Lol. Excluding brokerage @anjanbabu
Haha. I am learning from you. Let's work together.



@anjanbabu. That's a bad idea of learning from someone in stock market. Find your own path. Collect all ideas, strategies or whatever. Pack it together then hit it. I'm sure this will take time but someday things will change just like that.
Yes. True if I put little quality time everyday I can make it.

What is this banknifty? How this works? can you write small notes? CE & PE? What's this? I see you're shooting same scrips since two days. @Avijit_Mondal
They are options I believe.
If i m not in loss, i would have posted my screenshot here