How does the subscription plan of Rs 50/month work, and where can I see details related to my subscription?
Subscription fees of Rs 50/month for Coin will be applicable only if you buy direct mutual funds on https://coin.zerodha.com/. There are no charges if you are buying or already hold regular plan mutual funds.
Even the Rs 50/month fees will be applicable only after the first Rs 25000 of direct investments done on coin. You can track the value/worth of transaction executed on coin dashboard itself.
Note that this first Rs 25000 without the monthly Rs 50 as subscription fees is just one time and not yearly.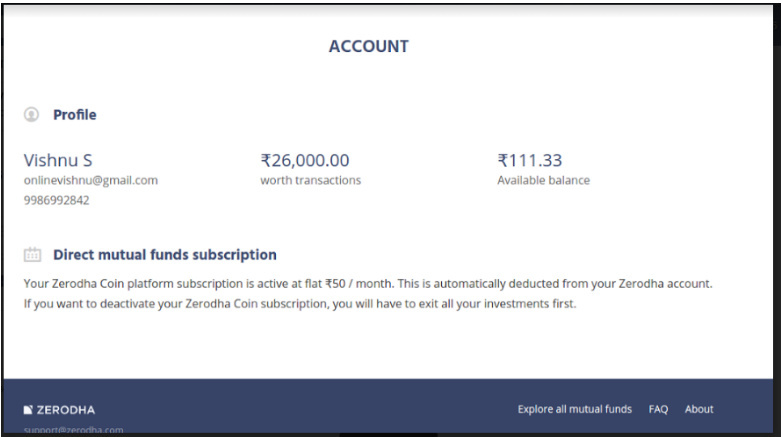 To cancel your subscription, once you have exited all the direct mutual funds, you will have to click the deactivate button as shown below.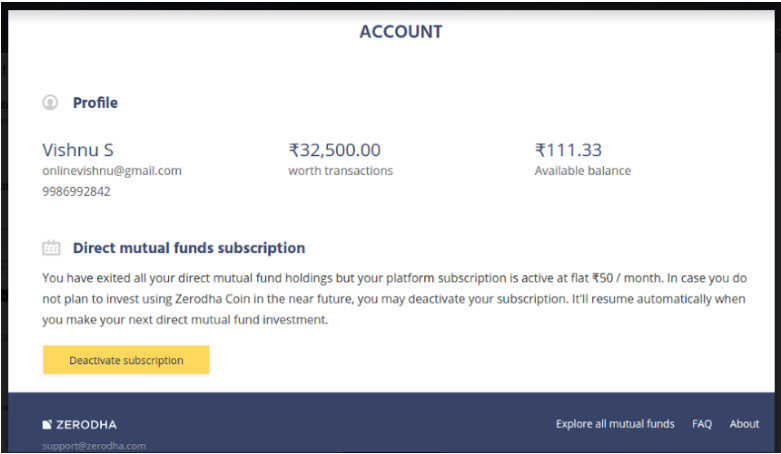 Also, check this link which explains how much more you can save by investing on Coin - our direct mutual fund platform.
Means if i start sip 5000/month in MF coins then after 5 months (invested 25000 in 5 months) can zerodha charge subscription charges 50rs per month or just one time charge of 50 rs for subscription?
Once your total investments cross Rs 25000 it will be Rs 50 PM, regardless of the number of SIPs/lump sum investments you have.
Is it Rs.50 per month per each fund that I subscribe to or flat Rs.50 per month irrespective of the number of funds that I subscribe to?
flat Rs.50 per month irrespective of the number of funds
Hi @nithin Nithin,
Thanks for the excellent platform for mf.
I would suggest you that 25k threshold is ridiculously low, it makes it unattractive as if I put 25K, 0.2% x 12=2.4% annual. which is a lot more than few indirect expense ratios.
too make it attractive you should make it atleast 1L.
Thanks,
Vishal.
I have bought lumsum long term tax saving fund of more than 25K in last month so do zerodha will charge 50RS per month?
Even i am thinking to start SIP of 3k-4k. So each month zerodha will charge me 50RS?
Yes Rs 50 per month will be charged irrespective of how many SIP's or value of your investment.
Hi Nithin,
Can there be separate account for Coin platform ??
The issue is I have multiple SIPs in a month and its confusing whats the balance available for M and whats for equities… at particular date having common funds account for all (EQ/Derivatives/Coin)
Also it can be easily transferable from one to other inside Zerodha…
Thanks,
Parag Kharche
Currently not, but I will see if we can do something
This may sound like a stupid question but here goes.
I buy an ELSS mutual fund every year. one 1,50,000/- investment per year. I am sure you have already guessed it is purely for tax saving purpose. Any money I make on this is an added bonus. So does it make sense for me to buy from Coin Direct and pay 50/- pm. I think this is only an added expense.
But I would like to buy the mutual fund from Zerodha as I like you guys

so is there a way, where I don't pay a monthly amount and will be able to redeem my MF in three years without added expense?

if you don't buy this MF directly on coin, you will pay 1% upfront commission, so every every year Rs 1500. You will pay 1% as trail for every year you held this, so minimum Rs 4500 for 3 years. If the value of your 1.5lk has gone up, it is 1% of this increased amount - so minimum Rs 4500. Together Rs 6000 in 3 years (which is the minimum). With coin, it would b Rs 1800 irrespective of value. So if next two years you invest Rs 1.5lks each, instead of Rs 18000, it will still be Rs 1800. So yeah, Coin is better…
But yeah, if you want to pay us more, you can not go for direct and use regular plan without paying this Rs 50/month ;). Here is the link to regular plan.
Hi Ozzy,
If you bought a regular plan of this same mutual fund scheme then the distributor would be receiving 1% upfront commission and 1% trailing commission that would be more than Rs 1500. The AMC then discounts this in the NAV price.
For the investments in a direct plan, the AMC does not pay these commissions. So, I guess the brokerage that you would be paying us for a direct plan is a nominal amount of Rs 600 annually.
We need to earn some revenue too if we have to provide you these cool products

Thanks a lot for clearing a lot of things. I didn't know it was this bad. Thanks again.
thanks a lot for making it so easy to understand.
Hi Nithin
I have a question regarding the fees. If I am holding 5 mutual funds each having more than 25 thousands rupees invested then what will be the monthly fee? Will it be flat Rs. 50 or Rs. 250?
Flat Rs 50 irrespective of number of funds or value of funds.
Hi Nitin…
As i can understand coin platform is charging 600/year for any amount of direct mutual fund investments, once it goes beyond 25k. Certainly, you are only charging this sum for providing a platform to keep track all my investments, as direct mutual funds can also be purchased from the concerned mutual fund providers website without any such monthly/yearly cost. One good thing with coin is that it will provide a single platform to invest in all direct mutual funds, however, which anyway is being provided by CAMS, etc. for free of cost. I believe if this is only administrative charges then it should be little lower. Beyond all this, i love this platform and trying to shift my investments to zerodha , do you guys have any plan to introduce any features to track all our folios/investments in this platform irrespective of brokers !!!

Hi, CAMS is an RTA and some the AMCs (not all) have outsourced certain operations like maintaining records of investor details, folios, processing of purchase and redemption orders, etc. It levies a charge on the AMCs for undertaking all these responsibilities as an RTA.
CAMS does not charge the investors for investments through their MyCAMS app because they get incentivised by the AMCs for every transactions.
The drawback here is that you cannot invest in funds of other AMCs like Axis, Reliance, Franklin, Sundaram, etc. because they have separate RTAs.
Tracking investments from other brokers will not be possible because each one has a different ARN code or RIA number mapped to them.