trading view charts within kite have less indicators please provide all the indicators which trading view provide
i am not able to use the tradingiq chart.as it shows message" a web page is slowing down you browser" what to do @siva @nithin. what may be the problem and what is solution
Can you check your network once, also how many tabs are open, how many charts are popped out.
chart refresh issues have been always there in chartiq earlier & now in TV…these are all tested products so wonder how it doesn't work properly in your environment…is your data feed is not realtime? pls revert after fixing as this is a serious issue.
only one tab is open and no network problem. chartiq is running very well but not trading view.no chart is poped out. this problem is from the starting of commencent of tradingview.
If zy9599 is your client ID, I can arrange a call and get it checked. If not please message me your client ID.
Thanks for introducing TV charts…
Not getting previous days closing price value & line on the charts, despite enabling it with desired color in the settings…
Kindly help
Hope You can resolve it soon…
Any solution on the crosshair issue for currency futures?
or any update on the cause of this issue?
I find TV to be helpful for monitoring multiple charts at a time. So, i have continued using it. But, this is one main issue that causes a lot of problems when i want to know the value to place SL or limit orders.
Hope this can be rectified soon.
Ya, in a day or two, it will be sorted. Thanks.
How to get day separator on trading view?
I think it is not available on TV, let me check though.
1, if symbols Prev. close Value is checked, the value is not displaying on chart
2, countdown to bar close is not there
@siva the day separator function is there on TV
pic attached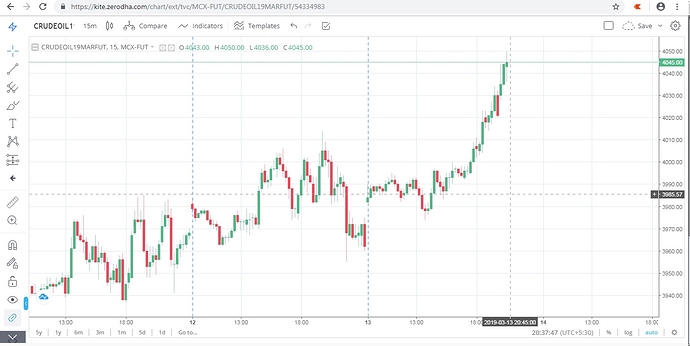 Thanks.
This is noted.
TV is not giving this out.
Can click on the settings(screw symbol) button and select as below.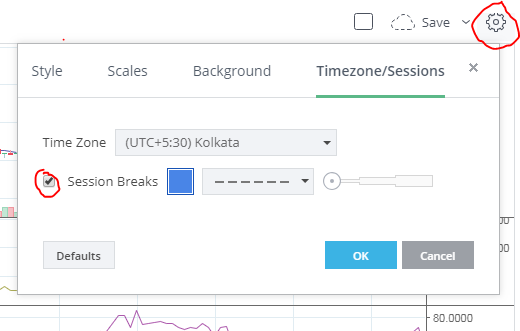 you completely misunderstood me.
All i m saying is that the charts must match if i take feed from global data feed or esignal or any other data provider.
Now if we take charts from global data feed or esignal, they match.
But the same charts dont match with your feed.
Now assuming professional TA are all using proper data feed, they will see the same chart patterns on their charting app, whatever that may be.
Global data feed or esignal do not capture all the ticks. No one is asking for all the ticks.
All i am asking is that bar/chart patterns must match with any other data providers. if that is not the case , then we will not see what professional traders are seeing on the charts.
I can't believe that you have been doing this professionally for 20 yrs and not understand something as basic as this.
In any case i have given up, since it not possible for you to provide professional grade data for the charts.
Hence it doesn't matter if you provide the best charts app , its no use to day traders , since we will not see what other professional day traders see on their charts.
Thanks for the reply though.
Dear all,
First appreciate the new move in charts from zerodha , they initiated now only they are also trying to give a best things for us , they just deployed its will take days to stabilized. i really understand they are working hard in back of the seen , if you found anything wrong just post tothem , dont say its useless these thing are not good manner. let point the error you are facing to them …
Thanks