My apologies. Thanks for correcting me. I have updated my previous comment.
Even I haven't received it till now (it's past 12pm already
Thanks for sharing the info, by the way… Like UPI, applying through Net-Banking is also accessible by everyone… And given the issues faced under UPI currently, right from the time of application till the time of unblocking of funds, applying through Net-Banking seems like a breeze.
If we apply through Net banking I think we will not face such kind of issue that we faced with UPI Mandate , and can anybody tell me if we use net banking is there any chance of removing amount block status from bank once refund process initiate from IPO So we will not wait till Mandate end
In case of application through Net-Banking, the amount blocked is released within 1 day from the date of finalisation of the basis of allotment.
I think it can be done in Netbanking of HDFC. You can unblock funds after allotment. In IPO window of HDFC NETBANKING, the 4th tab in top contains RELEASE FUNDS where you can unblock your money. I also hope all major banks have this option in their IPO window. Correct me if i am wrong
Usually mandate will appear in 2-3 hours after placing your bid in console. But if it is taking too long, i suggest you to cancel the bid and apply for new one. But always check application number while accepting your mandate. You may receive mandate for cancelled application aswell. This happend to me recently and funds will unnecessarily gets blocked. be careful . I suggest you to choose netbanking (ASBA) for applyng IPO's. Less hectic, no complications and easy process. I know, i might be late replying your query, hope this finds helpful for upcoming IPO's
Hi,
I applied for cams and chemcon ipo, but there was some problem with BHIm upi I kept trying to accept mandate but everytime, it fails saying npci call failed… so I deleted my bid from zerodha . But when I check my account the amount is blocked… when will it be unblocked pls help.
It can take time to get released, you can get in touch with the bank, they can provide you with more information.
I applied but why i didn't received the mandate request on my sbi bhim app? app is updated i checked but there was no mandate request. whose fault is it? if i have applied i have to get mandate request right? is it because of zerodha's console platform? should i use banks asba facility next time?
After you submit the bid, it is the IPO Sponsor Bank which has to send the mandate request, generally this happens in real-time but sometimes it can take time, if it is taking too long you can delete your IPO application and make a new, if it still doesn't work then you can apply through ASBA.
I was trying to apply IPO Chemcon. When I received mandate in google pay I authorised it but it was falied due to some error. So I cancelled my bids and reapplied again. That time I selected BHIM UPI and approved mandate it went through successfully.
However now my amount has been blocked twice in both UPI s for a single lot(google pay and Bhim).
Will I get one amount refunded after 29th sep?
For the application which you have cancelled and funds haven't been released yet, you should get in touch with the bank.
For the second application, if you receive the allotment funds will be withdrawn from your account, if you don't receive the allotment the process for refund will begin on 29th September.
This is my first time subscribing for an ipo , I subscribed for chemcon ipo i got a mandate request on Google Pay i accepted the request my money seems to blocked but on the status on console it shows request rejected by investor bank and the money but on googlepay its s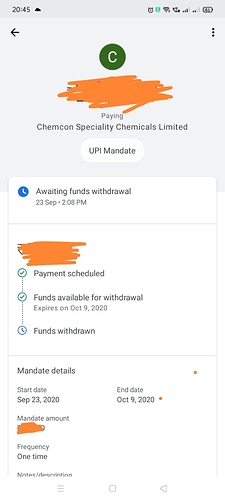 This exactly happened to me for CAMS ipo. Funds remain blocked in account even if your application gets rejected. However my funds got unblocked or revoked in 24 hours. But i suggest you to get in touch with bank on this. happy investing and goodluck. Prefer NETBANKING rather UPI for IPO bidding.
I have some questions could you please help me to find it's answer
what's is means Request accepted by sponsor bank
why on BSE/NSE site details of bid not showing after entering application and pan number
Still Zerodha console showing blocked 0
my UPI Mandate was failed while applying but money get block in bank account
Thanks all of you am observing this Group conversation from last 2-3 days everyone trying here to help each other
God bless you all of you
Same case here, but I have not even received ipo application cancellation email from zerodha for CAMS ipo. That is why money is still blocked even after cancellation. Whom should i approach,first zerodha must intimate me about cancellation of my bid
Amount is blocked and it shows amount blocked none
I have applied for Chemcon IPO mandate generated and money blocked but staus show pending then next day i cancelled my bid can share alloted or not and if not then when my amount unblocked