This is an example on how to apply for an IPO.
The D-Mart IPO will open on March 8th. The company is offering shares in the price band of Rs295-299 per share.
So in order to apply for an IPO, you can apply via ASBA (Applications Supported by Blocked Amount), this blocks the amount in your account and will be deducted proportional to the allotment or completely released in case of no allotment.
The ASBA service is available with these banks.
There are two modes of ASBA;
Online: You can log in to your internet banking portal, and search for ASBA services or IPO.
In case of SBI, this is how it looks like

Select Demat & ASBA services.
And you will be able to see the open offers here. In the next step, you will be asked to fill in the personal and the bid details to complete the process.
Offline: You can also visit the branch and submit the ASBA form by filling in details such as Name, PAN Number, Demat Number, Bid Qty, Price and other necessary details and submit the form at the bank which has been designated to act as a Self Certified Syndicate Bank (SCSB).
E-ASBA: If your bank does not have an online platform, you can download the E-ASBA forms from the NSE website. So you can download the forms, fill them and submit them at your designated bank branch.
With the advent of core banking, it also doesn't matter where your account is held, you can submit the forms at any branch in any city.
To apply for the IPO you need to know you demat number which you can be found in the profile section of your back office Q.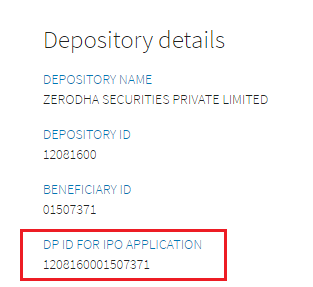 You need to combine the DP ID and the Beneficiary ID. Your demat ID is a 16 digit number. Ex: 1208160012345678 (CDSL) or IN3009512345678 (NSDL accounts opened with Zerodha through ILFS).
If you are applying through HDFC here is the process.
hi, i would like to know ,How to Buy D- mart IPO with zerodha a/c ??
Hi,
The process is as described above.
How can we sell the stocks once we purchased from asba facility??
since we are not buying it through zerodha,where can we see the trending price and sell the stocks?
If you get the allotment, you need to add the price and the quantity manually in order for you to be able to see the stocks in Kite/Pi/Q. Once the allotment happens, Zerodha has no way of determining the price at which the allotment happened. To manually add the price you need to go to Q>Porfolio>Holdings and click on "Add/edit discrepant quantities".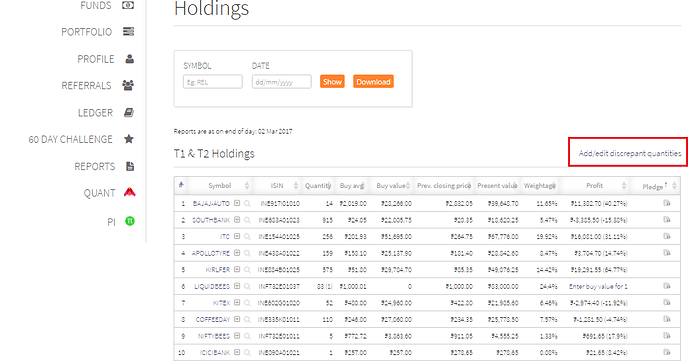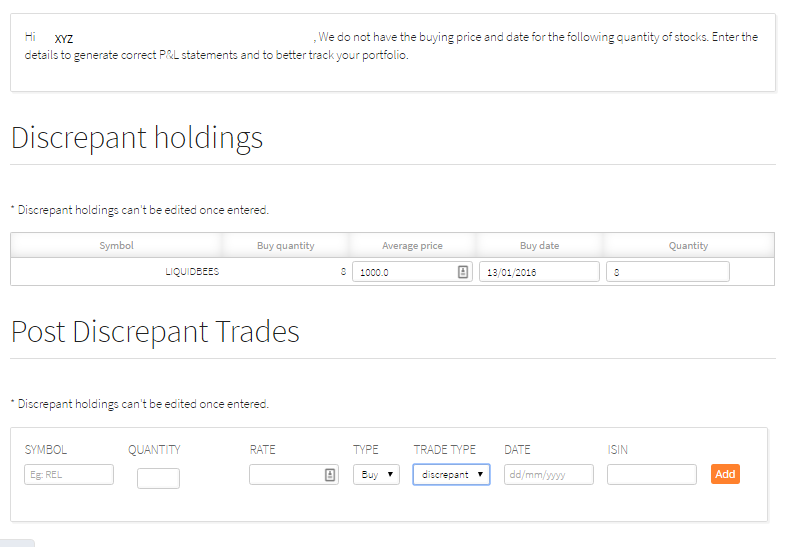 Enter the necessary details and click on add. Your holdings will get updated with this buy price on Q, Kite, and Pi from the next day.
We need to choose NSDL or CSDL from SBI bank site while adding applicant.
If you have an account with Zerodha, then CDSL. If you have an account with a different broker, check with them.
Below are the forms available on NSE website for D-mart IPO. Which one should be downloaded for offline submission in the bank?
Blank Application Form Download
Bid-cum Application Form Download
Download RHP Document
Blank Revision Form Download
Bid-cum Revision Form Download
Thank you
Manish Khemka.
Understood the above part but when do i know that i have gotten allotment of shares and how ,do any digital recipt is generated . other thing is in q holding section under Post Discrepant Trades there is ISIN column for entry wanna know what is that .
When the allotment happens, you will be able to see it in your holdings, you just add the allotment price through the discrepant quantity option. If you get an allotment, then the ISIN field will be filled in, you don't have to enter anything.
So whenever there is a credit in your demat account you will get an SMS from the depository, in the case of Zerodha from CDSL.
if i apply via SBI bank…do i need to submit any physical form to any where…
please reply as much as possible
If you are applying online you don't have to submit anything.
just fill the details and submit it? my signature will not require anywhere?
actually my brocker said u cannot apply online
If you submitting a form online, there are no signatures involved. I am not sure which broker you are referring to but as long as you have a demat account you can apply via ASBA. The process remains same, just ask him for the DP ID and fill it in the SBI IPO page.
Thank u…
such a relief…applying for the first tym…
I thought we have to choose NSDL with zerodha as we have demat account with IL&FS? as per your below statement,
"Ex: 208160012345678 (CDSL) or IN3009512345678 (NSDL accounts opened with Zerodha through ILFS)."
Zerodha is a depository participant with CDSL. But if you have an IL&FS demat account then yes, you have to select NSDL.
thanks that was pretty quick reply :). Also, what if we don't get allotment? When to expect money refunded in our account?
I think it should be unblocked immediately.